Summertime Songs- Field Report Album Review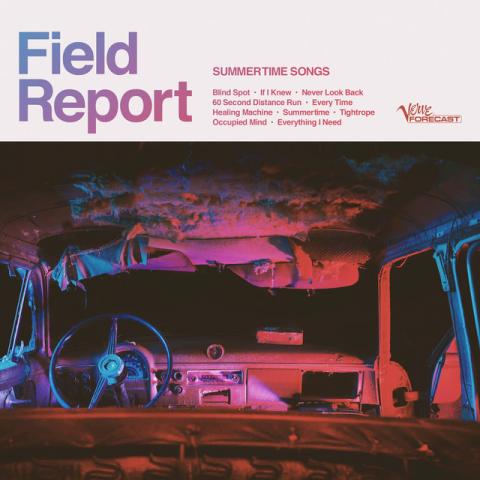 Milwaukee based folk band Field Report released their third studio album Summertime Songs on March 23rd. It is their first release since 2014, and highly anticipated by some.
The album opens up with the three released singles, the first being "Blind Spot." The song incorporates some electric guitar elements, which is very uncommon in the band's past discography. It's more upbeat, which is another uncommon theme within the band. The song has some brilliant background vocals, once again another thing not seen very much within the band's discography. The constant background synth is an added plus.
The next song in the album, "If I Knew," goes back to acoustic based guitar more than "Blind Spot." The middle section I found to be especially good, and the ambience towards the end was a good added element.
The last single "Never Look Back" has more of a balance between acoustic and electric. Once again more upbeat, the song also includes what sounds to be a talk box.
Echo and reverb are more common in the vocals of "60 Second Distance Run," which creates an ambient vibe. At times it reminds me of other songs, such as Mannheim Steamroller's Version of "Good King Wenceslas" and "Decision Day," another Field Report song from the album "Marigolden."
"Every Time" is not as upbeat as the previous songs, and it is very comparable to another Field Report song, "Marigolden". They are both very somber and build up in volume as the song goes on. "Every Time" also builds in musical complexity.
"Healing Machine" is more ambient in all parts of the song, not just the voice. Like most songs before it, it is pretty complex.
"Summertime" is very upbeat, and is quite possibly Field Report's most upbeat song to date.
There's not much to say about "Tightrope" but it did remind me a lot of the alternative country band Uncle Tupelo.
"Occupied Mind" goes back to being less upbeat, quite possibly the most gloomy of the album. The middle part of the song contains a nice background vocal break, which was the strongest point of the song to me.
"Everything I Need" was a very cool song in that it had an upbeat percussion part, but everything else was the complete opposite, which made for some good listening. It builds up in the middle, but drops back to close out. It was one of the best finishers of an album I could hope for.
Overall, this album was very strong. It had everything I wanted and more. Each song was complex, and you could listen to each song at least ten times and find something different in each listen. In addition to the complexity, each song contained frontman and songwriter Chris Porterfield's poetic lyrics and shaky vocals. Summertime Songs was very different from the last two Field Report albums, but still had their signature sound. My favorite songs were the three singles: "Blind Spot," "If I Knew" and "Never Look Back" as well as "Summertime." I would recommend this to every single person that has ever listened to music at any point in their life, even if they haven't ever listened to folk music. This album will stay in my top 15 albums for my entire life, I'm almost positive of that.
Album rating: 15/10
[spotifyplaybutton play="spotify:album:7DrTiGGyz5KJcrMAox1KJc"/]