Bob Marley and the Wailers – Legend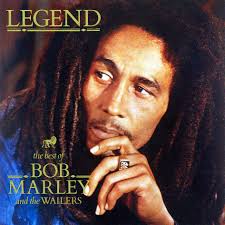 Everyone has heard of Bob Marley, and everyone has heard his music. He is undoubtedly the most well-known and most successful reggae artist of all time. He may also be the most famous Jamaican in all of history as well.
In 1984, the most influential reggae album ever was released in "Legend". Essentially a greatest hits compilation album, it is Marley's most listened to album by far, and it is one of the best selling albums of any genre of all time as well. Over the years, this album has been remixed and remastered a number of times, along with a compilation of live versions of each of the tracks.
In 2002, a deluxe version of "Legend" was released, which is not much different from the original vinyl record except that the sound quality of the songs was improved. The deluxe version consists of the original 16 songs which all together last about 51 minutes. "Legend" features classic Marley songs such as "Three Little Birds", "Could You Be Loved", and "Is This Love," along with a slew of other great tracks.
My personal favorite track, "Jamming", is vibey, vibrant song which is meant to represent getting together with friends in celebration. Personally, I think this song best embodies the album as a whole, and sets the tone with the typical reggae instruments such as the marimba and steel drums featured in it.
In the Rolling Stone's 2012 version of the "500 Greatest Albums of All Time" list, "Legend" was placed as the 46th greatest album of all time. I do not disagree with this ranking at all, as Bob Marley was easily one of the most influential musical artists of the 20th century, aside from his musical career as well.
If you have never listened to "Legend" all the way through, I would highly recommend you give it a listen. It is one of my personal favorite albums of all time, as it can turn any bad mood into a good one; and it is sure to just chill you out. And no, you do not have to be a stoner tree hugger to listen to Marley's music.