Days: CD Review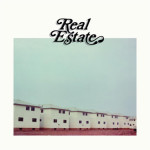 It's fall and it's also supposedly summer according to Real Estate, as revealed by their sophomore album "Days".
"Days", released on Oct. 18, gives us a little taste of what we should've been listening to in the several months before the album was released. With its hum-like vocals and beach-y guitar strums, the album could be summed up in one word: summer.
Unlike most contemporary albums full of distinctive singles of caustic proportions, "Days" is the type of album you would want to take in with several hours on your hands and a day full of lazy naps. It's something you could fall asleep to, but trust me, it's not boring.
"Days" provides some feel-good tunes, but some with the slightest bit of bitterness. "How can I be free / When all I want to be / Is by your side / In a new municipality," is just part of  "Municipality".
Although the album has an abundance of lazier tracks clearly available, "It's Real" is definitely a song to check out if upbeat melodies are more of your thing. If you're willing to dissect the song, you'll love listening to the make-you-want-to-tap beats and the sing/moan-along vocals you'll pick up from it.
While listening to the album, you might be thinking "Is the masculine clone of Best Coast?" If said scenario is true, don't be surprised. It's natural for that feeling to occur. With its sometimes cheery, sometimes whiny songs, Real Estate is a compatible match for you if you so love Best Coast.
A great album to listen to either by individual tracks, or the whole collection, "Days" hits high marks when it comes to being a great album.
Real Estate's "Days" is the essential album for the listener that can respect songs that make even the everyday (houses, streets, basic suburban life) seem simply beautiful.
Rating: 4 / 5 stars
Photo by Shawn Brackbill