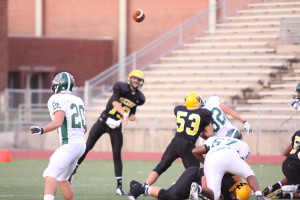 Starting varsity quarterback AJ Verdini, Junior, gives us some insight about this years upcoming football season.
Q: How do you feel the first few games went?
AJ: I feel like the first one went really well. The second game didn't go as planned, though, we had a lot of mistakes.
Story continues below advertisement
Q: What game do you guys' have circled on your schedule and why?
AJ: I think that would have to be the [Shawnee Mission] East game. It is senior night and we are rivals so, it will be a good game.
Q: How do you think you did in your first game as quarterback? What are you looking to improve on?
AJ: Not so good, in my opinion. I need to improve on not fumbling so many snaps.
Q: Say it's fourth and goal with one second on the clock, who is your "go-to" player and why?
AJ: Probably Brett Sterbach, we will definitely run and Brett is definitely our best running back.
Q: What is most different, in your opinion, about this years team from last year?
AJ: The biggest difference is that we have more senior leadership this year. Experience is also important.
Q: What is your guys' biggest motivation to do well this year?
AJ: We just want to win, most importantly. State is definitely our goal.
Q: Who is your biggest breakout player so far this season? What has contributed to their success?
AJ: I would have to say Andre Maloney. He is great on both offense and defense.
Q: What is the best part about being on the school football team and why?
AJ: It is so much fun, that part is great. Also, my teammates are awesome to be around, and are just good people.