Unified Sports: Bringing Inclusion to the Game.
The sports experience is a high school stable, the cheering, the crowd, and the game itself become cherished memories for everyone involved. So shouldn't sports be for everyone?
Shawnee Mission West's unified sports team is breaking down barriers to make sure everyone can be included in the fun of physical recreation.
Unified Sports partners with the Special Olympics program to give students with disabilities the opportunity to be included in a sports team. The program was started in 2013 and prides itself on promoting social inclusion through shared sports training and competition experiences. Roughly 1.4 million kids around the globe participate in unified sports programs.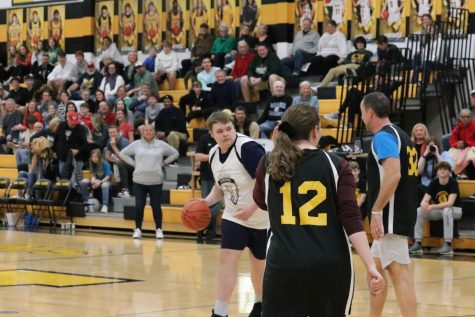 Paraprofessional Erin Klehm has just started coaching the unified sports program at West this year.
"I'd say that the main goal of unified sports is to provide an opportunity and a space where people have different abilities to be involved in sports," Klehm said
While she is new to coaching, Klehm has taken the decade-old team to a new level by playing multiple sports already in the first semester and more lined up for the upcoming season.
"In the fall, we have basketball. It's done through unified and the Kansas State Athletes Association, [then we have] bowling. Within the next couple of weeks, we're gonna have bocce ball starting," Klehm said.
During a recent home basketball
game, the unified sports team had the opportunity to play in front of their peers. Deca put on a charity halftime show during a recent basketball game. filled with many acts such as the Shawnee Mission West Dance Team and an intense dodgeball tournament. During the middle of the show, unified sports put on a basketball game.
The players and unified partners had a few minutes to give it their all and score as many points as possible. Students wore white jerseys while teachers wore black jerseys, each with the message "Unified Strong" printed above the west emblem, a phrase that they all stand by.
Freshman Ruben Rangel is enjoying
his first year on the team. Out of all of the sports he has participated in thus far, basketball has been his favorite.
Rangel said that he has had the most fun doing free throws this year, a fact any observers of the basketball game could concur.
Sophomore Franky Mosqueda Alvarez has been on the team for 2 years and loves it. Currently, his favorite sport to do is bowling.
"I like that I get to bowl, hit the bowling pins. I like that I get to have fun with my friends," Mosqueda Alvarez said.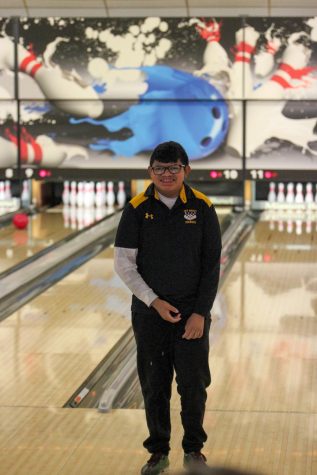 Community is the most important thing for the team. Unified sports do not just affect their players, it can be just as impactful for the volunteer partners. Senior Karla Acosta Herrera works with the cadet teacher program as well as the sports team. She joined last year on a whim.
"I joined originally because I just didn't want to take Chemistry anymore. I had heard about the program before, and I was interested in that, but I didn't have time. It wasn't until I decided to drop chemistry that I was like, 'oh, you should take this as an opportunity to try cadet' and I fell in love with it," Acosta Herrera said.
After joining cadet teaching Herrera was approached about helping the team and immediately jumped on the opportunity to participate.
"If you're thinking about it, just do it. You are not gonna regret this," Acosta Herrera said.
She found a passion for helping others through the program.
"There are rewarding experiences. You just make so many friendships, and you just have fun and make memories," Acosta Herrera said.
Cadet teaching and unified sports are always looking for more members of the student body to join their programs.
If you are looking for other ways to support the unified sports team a great way is to go to see their upcoming bocce ball tournaments! On February 18th the team will be playing at Lawerence Highschool, and they are also playing at Shawnee Mission East on March 4th.