What Are You Running From?
Cross country has come running to a close in the past few weeks after a long season. 
The season came to a close after a regional meet where the cross country members tried their very best and gave what head coach, Jeff Onnen, described as an amazing performance. 
"We had some good performances […] If you look at where kids started, from the beginning of the season, to where we finished, [you would see] so much individual progress," Onnen said.
Onnen has always been an athletic person and played soccer in high school. Around the same time, he got extremely involved in running, taking it up as a late-night activity, yet never ended up joining a cross country team himself. However, when given the opportunity to coach it, Onnen was eager to give it a try. 
"When I came to West, there was an opportunity to be an assistant coach. The former head coach had been here for 37 years. So I jumped on that opportunity. And then I'm gonna guess the rest is history. I was his assistant coach for six years. And then when he retired in 2006, I took over as the head coach for cross country," Onnen said.
After coaching for 23 years, Onnen still loves it. Coaching high school runners has unlocked his true passion for not athletics but sharing his love for running with his students.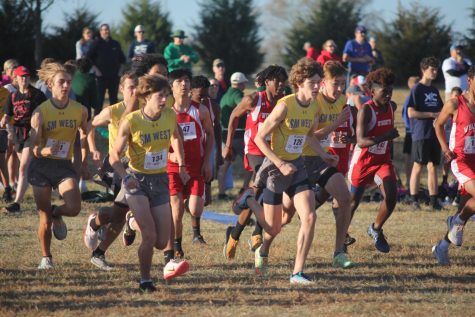 "I think one thing that is important is individual differences. That's the exciting thing about coaching is that you can see kids develop their potential so much from where they start to where they finish. Everybody's maximum potential looks different, but it's just so fun to see them on their journey of that. And that's been the part that's been really fun, I think. Rewarding," Onnen said. 
Onnen believes that cross country wouldn't be anything without its runners. There were 32 runners on the team with many individual successes.
Capri Collins, a very involved freshman, has taken part in cross country since 7th grade. Starting in 6th grade, her parents encouraged her to pick up a sport to get prepared for soccer. Because her parents run, she began to run with them. She originally just wanted to keep running as a hobby, but being a competitive person, she enjoyed all of the races. Going into 8th grade, she ran cross country making many considerable placements in her races including the fastest mile for 8th grade girls and the fastest cross country course for 8th grade girls. 
Collins puts in many hours of practice and works inside and outside of school to be prepared for meets. For diets, it's much less of an ordeal than you might think. Most days, she eats a small lunch and homemade dinners but of course, you've gotta have some fun days. 
"Sometimes on Tuesdays, we'll get pizza, but usually, we kind of cut back on that now," Collins said.
Collins' family has pizza Tuesdays and Culver's night Fridays since she works there. They also make cookies every two weeks because why not? Mostly food isn't a very big deal in her life. Just as long as she can get her daily runs in, she feels accomplished. 
In accordance with running, a certain routine has come into play. 
"Mainly, I would start off with three miles, I would be like three miles a week. And then like a five-mile run on the weekend," Collins said.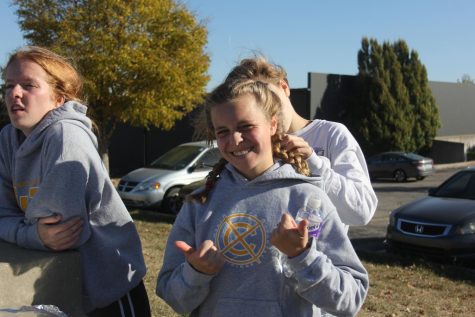 Collins first started running three miles a week back in 6th grade and her pace was much, much slower. As of now, her pace is faster. She finds her motivation in the fact that she feels so fulfilled after running. She feels guilty if she doesn't run since it's become such a habit for her. Collins' advice to everyone out there, whether it's people in cross country to people in football is to always remember everyone starts somewhere. 
"You gotta realize that you're gonna be slower than what you might want to be. And everyone starts somewhere," Collins said 
Her main goal is to start off with what she can do and challenge herself more and more until she's the best she can be. 
Like Collins, freshman Bredan Gillaspie is also fully committed to cross country. Gillaspie has been into cross country since middle school and was inspired by his father to start cross country. 
"My dad was a runner," Gillaspie said "I also knew the coach because I had a performance class with her."
Cross country is a very physically demanding activity, so it is important that runners are able to eat right and train properly. Gillaspie is no exception, as he has a few different methods of staying at the top of his game. The night before a race Gillaspie does a "carb load," which consists of eating mainly pasta and carb-heavy foods. This helps provide energy to use the next day.
Training exercises are very important leading up to each competition, and being at the top of your game can determine the outcome of the event.
"And then the day of, the entire team does a stretching routine together," Gillaspie said "then after that, we would go to the start of the race"
One of the hardest mental barriers to any competitive sport is finding the motivation to keep at it. Setting realistic goals and expectations for yourself is one way to keep yourself involved and motivated. Gillaspie has a number of goals for himself and hopes that by senior year he can get his 5K marathon time down by four minutes.
"My personal goal is that every year, I want to get better by one minute in a 5k run," Gillaspie said, "I think that's a pretty reasonable goal"
But the real question is how much free time these runners get. Like in any sport, being consistently at the top of your game is integral to achieving your personal goals. So it's not surprising that Gillaspie, and every other runner, must dedicate themselves to practicing in and outside of school.
"It's about two and a half hours every weekday," Gillaspie said, "and then every weekend it's like three hours of competitions."
This can be very challenging, especially if you have other interests or a job that you keep up with the outside of school. Getting off of school, going straight to practice, then coming home when it's dark just to eat and fall asleep, seems to be a pretty common picture. And while this may be stressful and need considerable time management skills, it's not impossible.
"You don't get that much free time until the season is over," Gillaspie said, "but at least the season isn't actually that long."
Of course, running isn't the only thing Gillaspie enjoys doing as on top of cross country, homework, and social events, he squeezes in other hobbies. Such as his love for video games, which he practices and plays in his free time. And Gillaspie also has a lawn care business where he mows lawns, rakes leaves, and plows snow for his neighbors. 
Running, has taken up a special place in the hearts of all of the team mates. They all hope for more successes to come. 
"I always kind of thought that I would coach until I retire. So it could be 11 more years […] We'll see! Just take it like a year at a time at this point," Coach Onnen said.