Girls Golf: A Hole In One!
 There are many beliefs surrounding the world of golf. Golf is a love-hate relationship for players. 
"You love it, some days and some days you're like, 'why am I here?' You just don't want to be here, like during 18 holes for tenure," said junior Shelby Stein. 
This is her second year on the team, so it's safe to assume the good days beat the bad. Golf can come to people in strange and mysterious ways. In the case of Shelby, it came in the form of an injury affecting her knee and wrist. 
"I got injured and wasn't able to play soccer or volleyball anymore, so I decided to try something new and golf," Stein said.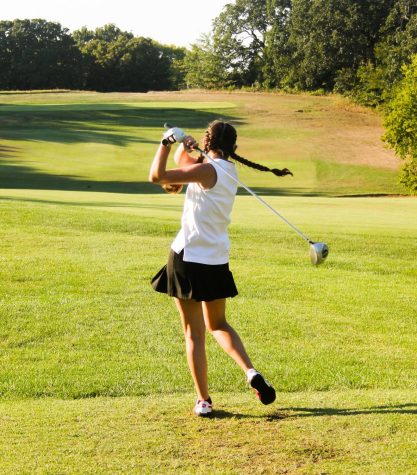 This Girl's golf season kicked off on August 12, when both Junior and Varsity teams have their first meeting, with 10 girls, including Freshman Sophie Vielhauler. Varsity's first tournament was on August 22nd, while Junior Varsity's first tournament was on August 26th.
These types of golf tournaments, unfortunately, are not as popular as football or soccer games, as matches mostly occur during the school day, making student spectator attendance very, very low. 
Even if student spectators were able to go, different rules apply for golf than any other sport. For competitive golf, spectators are not permitted to cheer, clap, or even talk at tournaments for respect. However, these rules do not take away from the game or stop our team from having a good time on the field. 
"It's really fun because you get to compete against yourself for a better score. I really like golfing in general, like walking and then hitting. It's calming, I guess, and you can also release all your anger on the ball. " senior Lem Dill said. 
Dill has been playing golf at West for four years. He started as a freshman on the girls' team and has remained on the team after coming out as transgender. 
"Freshman and sophomore year, I was just on it because I didn't identify as trans at the time. So I just already kind of knew the team, and my junior and senior year I just joined again, because I was like, well, you know, why not? " said Dill 
He expressed that the Girl's team is very LGBTQ+ affirming even though it does not reflect his gender identity.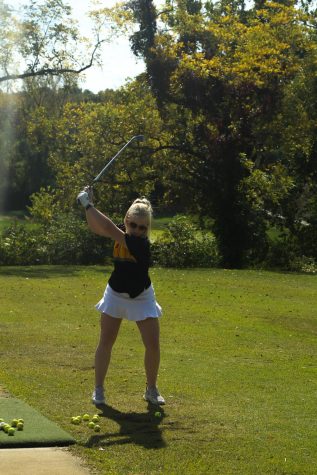 For being a pretty successful golf team, their prominence is not as talked about within the student body. We should better praise our girl's golf winnings and tournaments, and display how the girl's golf community is a friendly and accepting one.