,i>Port of Morrow: CD Review
As a huge fan of their third studio album Wincing the Night Away, I was somewhat skeptical when I heard the Shins were planning on releasing their first album in five years, entitled Port of Morrow. Over the past half decade, lead singer James Mercer took a break from the Shins to team up with renowned producer Danger Mouse.
Their creation, Broken Bells, released an album and an EP to critical acclaim. After such a long hiatus and new collaborations, Mercer's intentions seemed to not have anything to do with reuniting the Shins. However, Mercer must have had a brilliant trick up his sleeve. Either that or he just made a great decision.
I liked Broken Bells, but I have to admit to my excitement when I heard that a band I thought didn't exist anymore was releasing new material. Before I knew it, the first single Simple Song was released, and all of my doubts vanished. At first listen, the ironically complicated Simple Song is hard to completely take in. The obvious powerhouse and "radio hit" to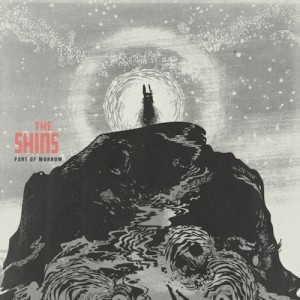 the album, Simple Song is easily the most involved song on the record, featuring every bit of Mercer's impressive vocal range, powerful piano melodies, a background chorus and catchy guitar. If you are at all a fan of alternative music and radio stations, there is little doubt you have heard this song already.
Despite my fears, the rest of the album lived up to expectations. As good albums do, Port of Morrow uses a great variety of genre elements, and has a good mixture of slow, ballad-type songs like "September" and faster, more pop-like songs such as "The Rifle's Spiral" and "Bait and Switch". Compared to earlier Shins albums, Port of Morrow relies more on strong choruses and bold rock moments.
As the only remaining original member, Mercer does a good job adding members that kept the old Shins feel while building upon what was already there from old albums. Powerful and meaningful lyrics are one of the strongest points of the album (as Shins albums have always been), with terrific imagery to paint every scene.
While the album certainly holds it own in terms of "good music", I am expecting more in a fairly short time, because 10 tracks hardly seem like enough to cover five years. Yes, a lot happened on those five years, and the Shins were basically recreated, but a lot of previous fans will probably not be as forgiving. The Shins are back for now, but they will need to prove they can stay together by making more music in less than two years.
Overall, Port of Morrow is a very solid album, touching on nearly every aspect. The only thing I would have asked for is another single. I rarely like the idea of multiple singles, but it felt like "Simple Song" was really the only song that completely stood out, while the others impressed quietly.
Rating: 4 / 5 stars