El Camino: Album Review
Last year saw the release of Brothers, The Black Keys' commercial breakthrough album. This allowed the blues-rock duo, who were sometimes covered up by The White Stripes' shadow, to gain some well deserved attention of their own. Brothers won the band three Grammys and after such a success, The Black Keys wasted no time writing and releasing their newest album El Camino.
El Camino proves to be The Black Keys' most focused release to date. While past albums were influenced by a wider range of music, El Camino was intentionally written mainly with a straightforward rock n' roll mindset. Lead single and opening track "Lonely Boy" is a prime example of this thinking and of The Black Keys doing what they do best: groovy, blues-crusted riffs woven in between catchy choruses. And these catchy choruses stick around in the next track "Dead And Gone," but this time in a more melodic manner. The album also marks a return to working with producer Danger Mouse, who produced Brothers' big hit "Tighten Up" and all of 2008′s Attack & Release. Danger Mouse not only produced El Camino but became an essential part in the album's writing. This collaboration between Danger Mouse and The Black Keys is made most apparent throughout El Camino's strong use of keyboards like in the stand-out track "Gold On The Ceiling."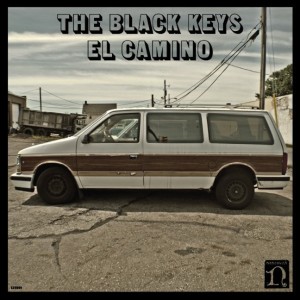 "Little Black Submarines" starts out with just an acoustic guitar and the somber cry that "a broken heart is blind." Though the beginning reminds me ofJohnny Cash, halfway through the song comes an explosion of electric guitar and pounding drums. And while Dan Auerbach's guitar work has always impressed me, through both his riffs and solos (especially in El Camino), his vocals have always been the selling-point of the band for me – so raw and full of heartache. Auerbach seems to have a soul that was born to sing in the late 60s or 70s born into a modern world.
Another album standout is found in "Sister," which may be coincidentally named, considering it's on the album following Brothers and drummer Patrick Carney had said the band has "never written a song like that before." The albums winds down with the tracks "Nova Baby" and "Mind Eraser." The former is stronger than the latter, but both create a mellow and very fitting mood. And as Auerbach sings "Don't let it be over" again and again on "Mind Eraser," I'm glad to know that it isn't. El Camino is just one more step in The Black Key's journey.
While El Camino is undoubtedly one of the best albums released this year, I don't think it has what it takes to be the band's best album. Its overall straightforward garage rock feel is definitely part of it's charm, but to gain that, the band gave up some of the subtleties and influences that made the previous two albums (Attack & Release and Brothers) so diverse and great. And like I said, it may not be the band's very best, but The Black Keys and Danger Mouse have made an album that is focused, fun, and full of soul. Honestly, I can't think of a better album to end my year with.