Fall Music Preview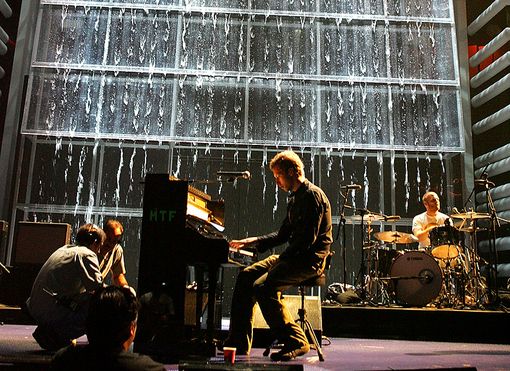 By Charlie King-Hagen and Alex Leininger
Coldplay
Fresh off the great success of their fourth studio album "Viva La Vida or Death and All His Friends", the Londoners known as Coldplay have quite a bit to live up to. "Viva la Vida" was one of the best-selling records in UK history, won Grammy Awards in three different categories, and boasted the band's first number one on the Billboard Hot 100, leading the band into superstardom. Now in 2011, the band is planning to release "Mylo Xyloto", their first studio album in three years.
Formed by lead singer Chris Martin and lead guitarist Jonny Buckland in 1996 while they were attending college, Coldplay first achieved fame in 2000 with their debut album "Parachutes", featuring the single "Yellow". "Parachutes" received positive reviews, and as of today has sold around 7.5 million copies worldwide. Described as light alternative rock and post-Britpop, Coldplay fixated themselves into the Alternative rock and Pop industry with "A Rush of Blood to the Head". The album met terrific success, and ended up featuring two of Coldplay's most popular songs, "Clocks" and "The Scientist". Then, in 2005, the band released "X&Y", an album that was heavily criticized but became the bestselling album of the year nonetheless.
Today, Coldplay is one of the most recognized and popular bands worldwide. "Mylo Xyloto" will be the ultimate test for the band, determining whether they can maintain their success for the next half-decade, and possibly even take their success to a new level. The first two singles on the album, "Every Teardrop is a Waterfall" and "Paradise" have shown a new side of Coldplay, and show the band's evolution from light rock to a more industrialized rock (in Chris Martin's words). The album will release on October 24, giving all Coldplay fans the follow-up they have been waiting for.
Taylor Swift
21-year-old Taylor Swift has quickly become one of the most recognized names in the music industry. Bursting on to the scene with her singles "Our Song" and "Teardrops on My Guitar", Swift revolutionized country music with her pop influences. Heavily influenced by Shania Twain and a list of country artists, Swift began writing songs from a very young age, usually to cope with bullying at her school. She started performing karaoke renditions at contents, and when her family moved to Nashville when she was 14, she performed her first shows. Her self-titled first album received much national attention, but it was really "Fearless", her second album, that propelled her to the next level. Blending her country influences to with catchy pop tunes, "Fearless" became the best selling country album in digital history. Her story-like writing style offered insight into her personal problems, and proved to be relatable to a wide audience. Swift continued her success in 2010 with "Speak Now", an album that focuses on her past relationships. Swift has revealed that she has already written numerous songs for a new album, which may be released as early as 2012. Following her recent breakup with actor Jake Gyllenhaal, the word is that the songs for the new album are generally sad or gloomy, and that they are about moving on from hardships. Taylor Swift has already proven her ability to hold a superstar status, but what the new album will prove is whether she can move into more of an adult audience.
Jack's Mannequin
Originally a side project of former Something Corporate front man Andrew McMahon, Jack's Mannequin is a piano rock band that was formed in 2004.  A smooth blend of powerful melodies, upbeat pop, and meaningful lyrics, McMahon formed the group due to new material he had been writing that he felt expressed a completely different musical style than the teenage punk ballads he had been producing with his band mates from Something Corporate.  Since then, McMahon has fought through a cancer diagnosis to produce two successful albums: Everything in Transit (2005), and The Glass Passenger (2007).  His third album, People and Things (2011) released October 4th, 2011, is, McMahon quotes the new record as being "a relationship record."
"My goal with many of the songs was to strip away the flowery language and sentiment attached to newer love and replace it with starker, less blinded language about more binding love," McMahon said in an interview with AbsolutePunk.net.  Notable singles from the album include Hey Hey Hey (We're All Gonna Die), Television, and the first official single from the album, My Racing Thoughts, released August 2, 2011.
Drake
Formerly known as Jimmy Brooks from the television series Degrassi: The Next Generation, Aubrey Drake Graham (Drake) is a Canadian rapper, performer, and lyricist.  He got his start in February of 2006, releasing his first mix tape Room For Improvement.  Since then, Drake has gone onto release his first album in 2010, Thank Me Later.  The album sold 447.000 copies in its first week, and reached No. 1 on the Billboard 200.  His new album, Take Care, will be released on November 15th, 2011, and will be released through Young Money Entertainment and Cash Money Records.  Notable singles include Headlines and Make Me Proud.
Other notable releases include: Florence + the Machine, Kelly Clarkson, Justin Bieber, Miranda Lambert, Daughtry, Rihanna, Angels and Airwaves, Hot Chelle Rae, and Mac Miller