Head Trauma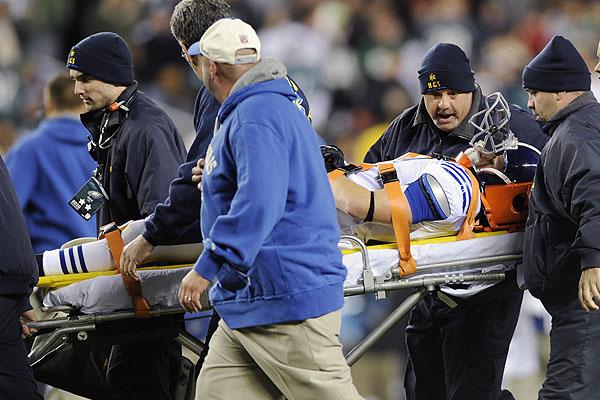 Concussions have been extremely rampant in the NFL and have been a contentious issue that has been incessantly brought about to the commissioner, Roger Goddell. The NFL has debated on whether to implement a rule where a player is suspended for a hit that is labeled as "vicious" and that's where the discussion begins to unravel. There seems to be a thin line between what's vicious and what's accidental and unintended.
Players have been hit with fines for brutal hits but maybe that isn't enough to deter this recurring problem. The fines are too negligible and minimal to persuade the players otherwise to extinguish the problem. So, the NFL is trying to ensure the players that they are able perceive the message: concussions have shattered the NFL's image to the point that's way past the line and although sometimes seemingly spiteful hits have been intentional, on many occasions for players they are greatly inevitable.  So many hits can be an illusion, because we don't necessarily know what's flowing through their mind and what went through in their decision.
So, the burning question is when and how do you draw the line? You could argue that it has to be transparent and blatant for it to be justified. But a hit that ostensibly is pre-mediated, could instead be beneath the surface and  just someone trying to make a play with no cruel intentions.
Whether you want to swallow or not football is an inherently dangerous sport and players know that when they get into that and that's how it's built to be for the fans and everyone else. It's collectively agreed upon that you can't and will never smother the problem of concussions. It's a byproduct of the sports and players can choose to forgo that and take the consequences or the contrary and decide to compete elsewhere in a less severe sport. This would water down for everyone, it would lose fans and players.
I don't condone malicious hits and don't consider concussions as a minimal problem but it's certainly going to diminish the tradition and demeanor of players. Saying that it's almost time for a change whether it's what people genuinely what it's what the sport needs to maintain its prominence.
Listen, I entirely get where Roger Goddel is coming from. He has clearly hit and missed on a lot of things but I think as far as the safety standpoint he's been accurate. Players were irate and indignant for not getting the pensions and the proper treatment after retiring and Paul Tagliabue didn't allocate those funds properly. And with all the technology they have their hands on, which has compelled Roger Goodell to take action. After what happened to Kevin Everett, almost a pure catastrophe and wasn't only due to an epic miracle by beating the odds of not walking, he definitely was on the verge of not walking—– for life. They don't want it to get way out of hand.
The NFL is acting in its own self interest and being tougher with enforcing these issues. There's no benevolence here. They genuinely care about protecting players primarily because it protects its own self-image and bottom line.
This past Sunday afternoon overflowing with concussions was clearly the tipping point for this to take its place and it soon will be. The culture will change and players and fans will almost have to adjust drastically. For a league that has glorified violence and hard hits, marketed and sold it is now taking an abrupt U-turn. The NFL isn't neccessarily asking players not to be ferocious merely not in certain phases of the game, they are trying to legitimize the violence out of the game…. for the better. Roger Goddell doesn't want people to cringe over injuries or even an utter disaster to happen like a death in the middle of the game, he's doing what he's entitled to do and what he thinks bodes well for the league and its image for the future.
Another point to add is for alot of people it's the gladiatorial element of the game that makes it so compelling. You're always looking for the big hit to come out of nowhere and for you to jump out of your seat and celebrate it in awe. Whether the fans would support a more sanitized game is a whole another issue.
Do people love offense and touchdowns? Absolutely.But some defenses have solely been lionized and renowned for their brutal hits. The No Name Defense, the Steel Curtain, the Monsters of the Midway and the Doomsday Defense were revered because they crushed and hurt people. It was the nature of their game. Pro Football is renowned for their devastations and taking it away would cut out a fragment of history. So what now, they will take away their bronze skulls out of the hall of fame?
I'm not here to chastise the NFL on their plan and intentions, for trying to move towards a more civilized and less barbaric game, notably because we know exponentially more about head traumas than we did 5 years ago and we'll know tons more in 10 years from now. The league knows better to not take this information under advisement. But if the game evolves into a game where tackling is an afterthought will the aura of the NFL take a dramatic step down.
I think there's a chance most will have to admit that are liking to football is more basic and barbaric than even we perceive it to be. And if it's being as severely as purified in order to weed out the concussions as it's been rumored to be then there's just no way it will retain its current allure.
Every player would surely have to adjust but how? So you're going disregard all the ways players were taught to play and ask them to restrain every belligerent impulse during the mayhem of war-like combat and competition. Good luck getting that across, it will take awhile for people to register and process that though in their brain. The vibe just will not be the same.
Some see this an exercise in futility and an unmerited tweak while others see it as a watershed event in the NFL. If this carries through the NFLPA, Roger Goddel and Co. then it could leave the country's current most popular sport perpetually tempered. Would you be willing to accept that?