Viking Football Suffers Loss to Blue Springs Wildcats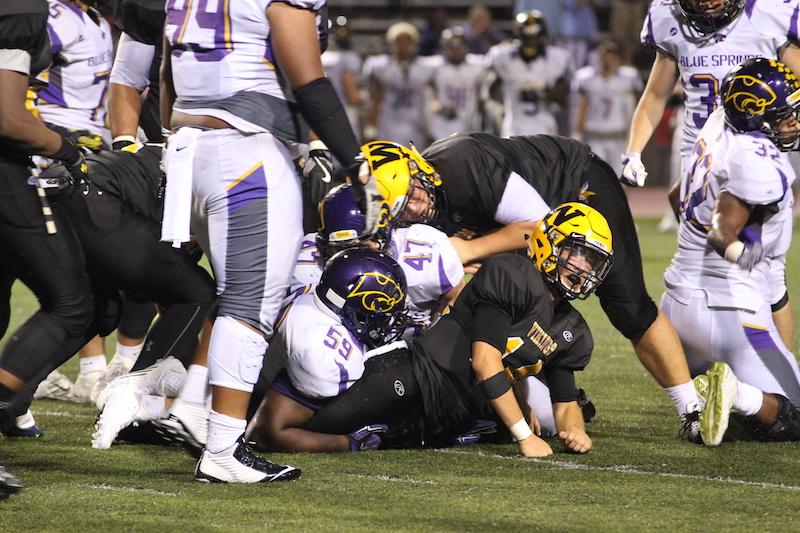 The varsity football team lost for the first time on Friday, by a score of 21-35.
They played Blue Springs high school, as part of a week of games pitting a Kansas team against a Missouri team. Another game played that night was Shawnee Mission East vs. Rockhurst.
Blue Springs is the second ranked team in the state of Missouri, and proved a tough matchup against the Vikings. However, the first half of the game was an indication that the Vikings could fight through the adversity.
Quarterback Zach Witters started the game strong with a 40-yd touchdown throw to receiver Israel Watson. Watson would finish the game 146 receiving yards.
Running back Jason Meeker also had a strong first half, with two rushing touchdowns. On the other side, Blue Springs had a consistently dominant run game behind junior Jaylen Ivey.
After leading the game 21-14 at halftime, the Vikings would fail to score another point, as Blue Springs took advantage of a tired West squad. The Wildcats scored 21 unanswered points to win the game 35-21. Witters through two costly interceptions that would lead to the Vikings downfall. But, it was ultimately an onslaught of injuries in the second half that was their undoing.
These two teams have a history of quarreling; they have played each other in scrimmage games in the past, oftentimes leading to verbal jabs which escalate to physical confrontations.
After Friday's loss, the vikings now sit at 2-1, with no losses to Sunflower League opponents. Witters and Meeker rank considerably high in several statistical categories, and look to push their team to a win this coming Friday against Lawrence High School.
Leave a Comment