A Summer Abroad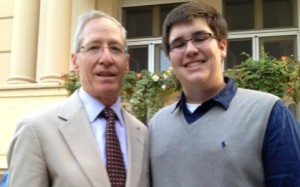 Over the summer senior Dylan Crow traveled abroad with a youth program and was chosen as one of the four highly qualified students from Kansas. His time was split between Hungary and Serbia.  The trip consisted of civic engagement, volunteer service, and developing the next generation of young world leaders.
Q: You traveled to Serbia over the summer, what was the purpose?
A: Three years ago, the US State Department started a program known as the YLPCE (Youth Leadership Program with Central Europe). The program is completely funded by State Department (so I didn't have to pay anything to go, it was all free). I decided to apply for the program after going to Youth In Government and meeting a girl named Lauren Brown. Lauren is a student at Shawnee Mission East and Lauren participated in the YLPCE last year. I will talk a little bit about the application process now too: The application consists of eight short and long essays, you also need two letters of recommendation, and then you have to fill out a bunch of stuff about extracurricular activities, volunteer work, job experience, etc. After this you submit your application and then you are either turned down or called back for an interview. I got an interview and had to go to the KCIVC (Kansas City International Visitors Council). David Albrecht, the director of the KCIVC was at the interview, and we were also on a conference call with two people from Meridian International, the organization who actually implements the program. Long story short the interview went great and I was accepted!
The purpose of the program is to bring together young leaders and adult participants from Serbia, Hungary, Slovakia, and Slovenia to build cultural bridges and work together to solve community problems. A total of 46 youth and adult leaders participated in the two-year project aimed at developing the next generation of young leaders. So basically in July 46 youth and adults from Serbia, Hungary, Slovakia, and Slovenia came to the United States and spent five days in Washington DC. In DC they met with congressmen, NGO's (Non Governmental Organizations), and nonprofits that specialized in youth led movements and community development. They then came to Kansas City, where they stayed with host families, and did the same thing (met with nonprofits who specialized in youth led movements and community development). The program in Kansas City was run by the KCIVC. They also learned about city government, the US government. After this they went to Chicago, where they worked on their action plan presentations — as a part of the program, everyone is required to develop a community-based project upon return to their home country. During the three and a half weeks that the Europeans were here they were taking notes and coming up with ideas for their projects. On the last day in Chicago they presented their projects.
After the Europeans returned to their respective countries, I prepared to go to Serbia along with eight other Americans (four of them were from Kansas City and five of them were from Raleigh, North Carolina). The first four days in Serbia were spent in Belgrade working with NGO's. During these four days we stayed at Hotel Palace. In Belgrade, we went to lectures with the Youth Initiative for Human Rights (YIHR), Center E8, the Serbian Red Cross, Studio B (Serbian television/radio), and the National Democratic Institute (NDI) — we also did volunteer work with some of these organizations. During this week we worked on action plans as well. We then traveled to Bor, a city in eastern Serbia, where we spent four days with host families. On the first day in Bor we met with more NGO's. On the second day we went to a city known as Zajecar, and met with more organizations. On the third day we split into two groups and went to two cities, Majdenpeck and Negotin and we learned a lot about culture, we went to a public bath house and swimming pool, we went to a Serbian cave, and spent dinner with a host family. On the fourth day we spent time in Bor. Also please note that the host families we were staying with were participants of the YLPCE program who visited America.
After Bor we took a 10-hour bus ride to Budapest Hungary, where we stayed with more host families for three days. In Hungary we worked with more NGO's and organizations like the Ashoka foundation, the Budapest University of Technology and Economics, and we also Skyped with the CEO of Teracycle
On the last day in Hungary, all of the American participants and all of the Hungarian participants met up and took a bus to Belgrade, Serbia. The last four days of the program in Belgrade are an Alumni seminar, where all participants from Serbia, Slovakia, Slovenia, Hungary, and the United States meet up. We also have a few lectures and workshops from the US Embassy in Belgrade as well as the NDI (National Democratic Institute) on writing grants, writing press releases, how to advertise your project using social media, etc. The Alumni Seminar not only brings together 2013 participants of the YLPCE but also invites back participants who have succeeded in their action plans. These alumni were a really good resource for us to use in developing our action plans.
Q: How long where you in Serbia?
A: August 2-18th
Q: Did you notice a language barrier?
A: Surprisingly enough, I learned quite a bit of Serbian. My host sister in Bor spoke English, but my host father spoke almost none and my host mother spoke little. This was the same in Hungary – My host brother spoke English but my host parents did not. There were moments when I was alone with a native Serbian speaker and I had to sort of interpret body language and use what Serbian I knew to communicate. Most Serbians on the other hand speak English, whether they are fluent or know just some basic conversational words.
Q: Serbia is currently dealing with repercussions of the Srebrenica genocide, did you noticed any heightened security?
A: Security wasn't necessarily as different, but I feel like police in Serbia as not as looked up upon as they are in the US.
Q: What main cultural differences did you notice?
A: In basic day-to-day living I would have to say that Americans in general are a lot friendlier than Serbians, or Europeans for that matter. Americans smile a lot compared to Serbians and that is something we were told on a daily basis – we stuck out because we smiled too much. Also, even when we were in the smaller cities, a lot of Serbians don't say hi to people on the streets like you would here. Differences in meals were also a big shock. Breakfast, for the most part, is the largest meal of the day. It includes a wide variety of meats and cheeses in addition to yogurts and fruit. Dinner, on the other hand, is the smallest meal of the day – it is considered more of a 'snack' I would say.
Q: Was the transportation there any different?
A: Absolutely. We walked everywhere while in Belgrade as well as in the smaller cities like Bor and Majdanpek. We rarely took public transit or buses unless we were walking over a few miles. Belgrade has underground subway systems as well as aboveground diesel buses.
Q: Would you go back?
A: YES. I fell in love with the city and the people. I am actually planning on going back next summer to intern with the YIHR (youth initiative for human rights).
Q: Did you gain anything from going to Serbia?
A: Of course! I love getting to experience new cultures – it is one of my favorite things to do. I gained quite a bit of skills that I can now put to use back here in my community.