Danger Daze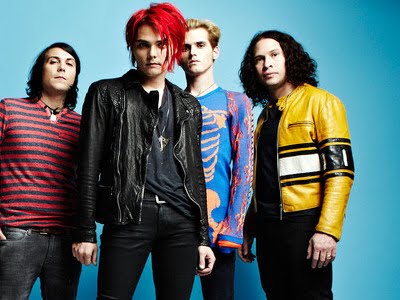 My Chemical Romance has maintained a steady level of popularity throughout their 10 years as a rock band, but their new album, Danger Days: True Lives of the Fabulous Killjoys may offer a difference of opinion.
For those unaware of how My Chemical Romance got where they are today, they started in New Jersey in 2001. Lead singer Gerard Way met with some friends after the September 11 attacks, after working in a comics store in downtown New York for several years, starting a band whose name is derived from a book. He stated that he "wanted to make a difference" and "get out of the basement", and that is what happened in the following years as a band. After releasing three successful rock albums, fans have been waiting four years (yes, a long time) for a follow-up to "The Black Parade."
Trying to follow up one of the greatest rock albums of all time is hard for any band to do, but especially for My Chemical Romance. Rather than sticking with their emo rock origins and alternative style, the band resorts for more pop-friendly melodies in Danger Days. Although the album may sound bleak to most avid rock fans, the record doesn't exactly disappoint like expected. It actually has numerous catchy songs and has a large track list.
After first seeing the album teaser, I was in disbelief that the background song was actually recorded by My Chemical Romance. For hardcore fans of rock and metal, you're in for a bumpy ride.
Starting the album off with something new and unique is what My Chemical Romance was going for when they feature a pirate-radio DJ named Dr. Death Defying, who is in the intro and featured throughout the album. He introduces the band members as the Killjoys ("Killjoys- make some noise," he states in the intro), which gives Danger Days the sentimental feeling of a concept album like their previous three. The entire album is about these "Killjoys", who are a gang out to destroy "Better Living Industries", who are a futuristic (2019) evil corporation. The story may sound intriguing, but it is far less exciting when actually listening to the complexity of the songs.
Starting off the record is My Chemical Romance's first single, Na Na Na (Na Na Na Na Na Na Na Na Na), which pretty much sets you up for the rest of the album. The song is the heaviest on the album, a classic My Chemical Romance song with one of the catchiest choruses of any rock song in recent years (need I state the lyrics?). A group of children singing seems to get annoying during the chorus, but doesn't last the entire record. It is a little bit more light-hearted and funky than "Dead!", the comparable track from "The Black Parade", but it does feature an epic breakdown and a great guitar solo, like that of its predecessor.
 "Sing" is the most popular song on the album, but is also one of the softest songs. The song starts off synthy and sounds like a classic rock song, butremains slow, which makes the song seem less original and more like a soft ballad that past rock bands have done. It does provide a change in sound from the normal alternative rock though. "The Only Hope For Me Is You" is one of the most well-crafted songs that the band has ever done. It is definitely the best song on the record, getting heavier guitar work than the first few songs, and the synthesizer fits the song excellently. It seems odd and out of place in other songs though; the synthesizer just isn't My Chemical Romance's thing.
The rest of the record is just okay, weakening around the middle. At the softest points of the album, which come in the middle, My Chemical Romance is reduced to a generic radio-rock band. The bonus track "We Don't Need Another Song About California" is a worthy investment, sounding more reminiscent of past recordings. Although having a long track list is a positive, it was expected from a band taking four years off between records; the bottom few tracks seem to run together and seem unoriginal and bland.
Danger Days is My Chemical Romance's most creative and fun record yet. Way was looking to make Danger Days a more creative album, lyrically and musically, and that does happen, but just to an extent. Although it doesn't remotely match up with the Black Parade, the concept album tells an interesting story. Fans of the Black Parade will be extremely disappointed with the change in My Chemical Romance's sound, but it grows on you after a couple of listens. At times, Danger Days seems immature, kiddish, and rebellious. This is awkward because My Chemical Romance uses the "f" word frequently throughout the album, but it isn't something new, as their past two albums have been written the same way (especially the vampire theme).
The album is clearly softer than previous recordings, but it is still an okay listen if you're looking for a fun album to listen to. Danger Days does tell a cool story, and following along the record in order is a new and interesting way to listen to the band. The songs are well-recorded and the sound of the guitars is captured well, but at times the record also seems a little overproduced. After promising to resort to a "rock band" style, they totally ditched that effort and strived to gain more mainstream pop fans and teenage girls than anything.
Look to pick up a song or two off the record, but if you're a past fan of My Chemical Romance, it depends on your taste. Many tracks are definitely catchy, but getting the entire album is the only way to enjoy the concept and story of the "Killjoys". At some points, the album may even give hints of classic rock- from bands such as Queen, Pat Benatar, and others, which may gain some older music fans. Pop fans will love the record, but hardcore fans may look past it and hope that other upcoming rock records from bands such as Rise Against and Shinedown can be a little more mature and less radio-friendly.
Danger Days may not be seen on the list of top rock albums of all-time, but it still is a somewhat memorable record, designating the rising status of My Chemical Romance, and giving them a less dark and emo stereotype like their past records. Sadly, I can'tgive this album more than 3 stars, because of how disappointing it was at first listen. This will sure be a moment to remember for the band and their fans, but they may also lose some in the process.
3 / 5 stars