On The Rise
Maps For Travelers is a band that is signed to No Sleep Records and started recording music together in Kansas City. Beyond music ability, this band revealed their true colors instantly. Their different personalities showed more than their love for music, but also how enthusiastic they are for each other and what they produce as a team.
The group is composed of four unique members: Zach Brotherton on lead guitar and vocals, RL Brooks on vocals, guitar and trumpet, Kevin Medina on percussion, and David Flemming on bass guitar.
The group came together due to other band break-ups. One member had a different story to tell, Flemming quickly responded with smile how he ended up in this particular band.
"I literally fell into this band," Flemming said while his friends laughed out of amusement.
Each member has their own outlet other than their rock band. Brooks mentioned that he enjoys his screen printing job and Brotherton explained his love for comic books and video games. Without hesitation, Flemming began to sing Brian McKnight's single "Anytime", expressing his love for R&B.
"If I wasn't in a rock band, I'd be in a R&B band [group]…sorry guys," Flemming said.
Maps for Travelers has to deal with many of the troubling aspects of being part of a band. The most difficult part is that they must merge their ideas to make music while having each others creativity in mind.
"The difficulty is four different lives having to come together for a common goal. Our writing process is beautiful and also crushing, somedays we are not in the best mood," Brooks said.
The chemistry between them really fuses them together regardless of the success.
"As long as we can make music and have it reach other people that's my number one goal," Brotherton said contently.
Maps for Travelers perform locally and also at major music festivals. This April the group will be performing at the Middle of the Map Fest. This festival is hosted in Kansas City and caters to music and film lovers of the midwest. Maps for Travelers has also performed at South by Southwest, a popular film and music festival in Austin, Texas.
"South by Southwest is fun but it gets crazy. We were running through the streets with all of our gear," Medina said.
Maps for Travelers exposed their love for the group and their undeniable talent. Although Brotherton explained the group is like having three needy girlfriends, the bass player with the friendly smile capture the essence of Maps for Travelers.
"Regardless, I like hanging out with these guys and making music," Flemming said.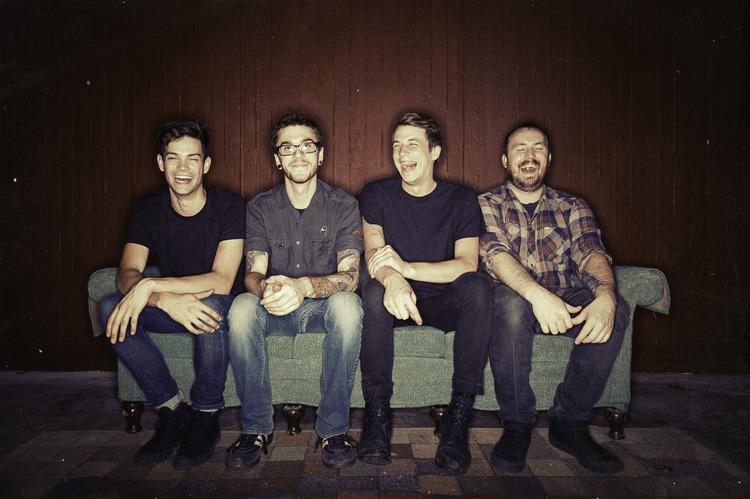 Maps for Travelers debut album titled Change Your Name, was released August of last year. They are signed to No Sleep Records. The band released a five song EP, Regress|Progress, in late 2010, which received rave reviews locally.
This album captures the listener right away with its first track "Good Life", which showcases their explosive guitar riffs and thrashing vocals.
It continues with songs like "Get a New Face", "World on a Wire", and "456" which includes their solid hardcore rock melodies with pop influences.
"Swoon" is one of my favorite song by far on the album. It receives my appreciation due to the soft vocals and consistent drum patterns.
I'm highly impressed with this album. I don't normally get into rock music but this album had definitely changed my view on it. They incorporated an indie feel to it, which made me like it even more. I like how they add in a trumpet as their secret weapon. There is no doubt that this band has a bright future ahead of them. I give this album a 4 out of 5 stars because of the overall different influences that shine through each song.
Leave a Comment