Review: "Sing Street"
Can John Carney's latest film overcome common cliches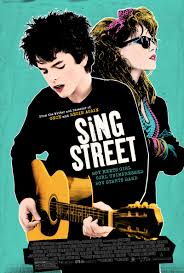 If there's one thing director John Carney knows, it's how to seamlessly incorporate music into his films. His latest effort, "Sing Street" tells the story of a boy growing up in Dublin who starts a band in order to impress a girl, as well as escape his strained family life.
Carney's previous films, "Begin Again" and "Once," have two things in common: they have great original music, and fairly weak screenplays. Those two films, as well as "Sing Street," fail to transcend the many cliches that hinder musical dramas from becoming truly great.
The lead character of "Sing Street," Conor, is played by the exceptionally talented Ferdia Walsh-Peelo. His endeavors to impress the beautiful 'girl-next-door,' Raphina (an equally great Lucy Boynton) make for an interesting character, albeit one we've seen many times before. Aside from the music, the chemistry from the two leads is the most endearing aspect of the film. Even though each situation plays out exactly as we expect it to, the flirtatious and sometimes poignant dialogue between them can be infectious at times.
Unfortunately, there are several other characters left out in the dust; every other member of the band is barely given any development, and Carney expects us to simply root for them simply because that's the way the story plays out. For me, Carney doesn't get off that easy.
Specifically, the main characters attend a strict Catholic prep school (another laughably common trope) and attempt to go against 'the man' by changing their hair color, wearing hip clothes, and putting on androgynous makeup. This is all fine and dandy, but the filmmakers failed to capture the war between the strict headmaster and the rebellious teens. There weren't many reasons for the band to come together in the first place, and frankly the manner in which they end up together is the purest example of weak storytelling.
As I previously stated, the most important reason to see "Sing Street" is the music. With a 1985 setting, Carney perfectly captures the ideals and pop culture of the time. The original music is incredible, and my personal favorite song is "Drive It Like You Stole It." It's a fast-paced, toe tapping good song, and I couldn't help myself from moving around in my seat in the middle of the theatre.
Overall, the film is a mess; this is a shame, considering how great the music is, and how truly great a few of the performances were. But, the many tropes and lack of character development left me disappointed several times throughout the film. Of course, the music is so great in the film, that it elevates my grade all the more.
Grade: B-