West Wears White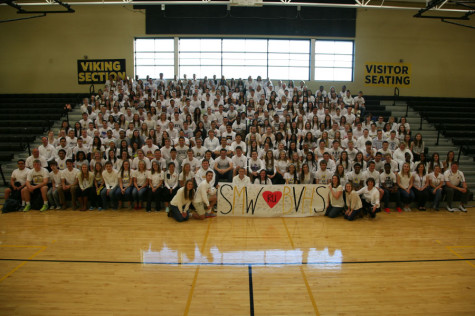 This morning there was a sea of white in the auxiliary gym. Over 350 students and faculty, all dressed in white, posed for a photo for Blue Valley High School.
BVHS suffered a tremendous loss this weekend as Reat Underwood, freshman, fell victim to the shootings at the Jewish Community Center on Apr., 13.
"We received such an outpouring of support from other schools and communities during our times of suffering; we wanted to do the same for Blue Valley," Tori Thomas, junior and pep club officer, said.
She is referring to the numerous posters, wristbands and photos received from neighboring high schools following the deaths of students and teachers this year.
Thomas, along with fellow officer Meredith Clark, helped to organize the event. They also created the "SMW [hearts] BVHS" poster that students wrote messages of encouragement on. Student Council and Dr. Julie Crain helped to spread the word about the photo as well.
After hearing of Underwood's death many at West wanted to reach out to BVHS, and sought out students to help implement their goals.
"I remember how moved we were at West to receive gestures of kindness from other high schools- this was an opportunity to pay forward that kindness shared with us," Karen Tritt, spanish teacher, said.
The large turnout surprised Thomas, "There were so many people who cared to show up 15 minutes before school started."
Administrator Connie Springfield, while initially surprised as well, soon realized she shouldn't have been.
"West has been through many things before, our students know support is key to overcoming tragedy," Springfield said.
To continue to show support for BVHS and commemorate Underwood you can complete the "10 Day Challenge for Reat" from Facebook. The challenge was created by one of Underwood's friends to keep him memory and good will alive. It involves simple tasks such as "telling your family you love them" and "give out three compliments to someone you don't know."
Leave a Comment