Monday becomes [Sun]day
Students and faculty react to the solar eclipse.
The anticipation leading up to August 21 was easy to see. From "Are you going to school on Monday" and "What are you doing for the eclipse" to teachers telling their eclipse experiences and parents calling in to excuse their kid, it was an event impossible to avoid.
With questionable forecasts, students and faculty pressed on to their viewing location which ranged from the Liberty Memorial to a cemetery in Higginsville, Missouri.
Junior Emmy Goff drove for over an hour to get to that cemetery in Higginsville. "It was definitely worth traveling for" said Goff, "There was no comparison to almost and complete totality."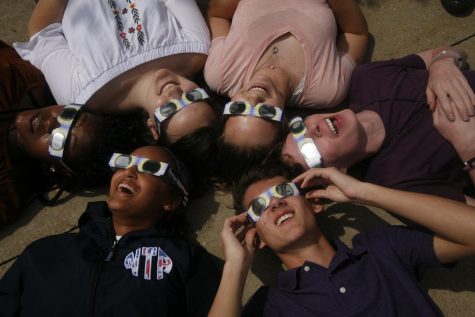 Goff offered advice for those who didn't get the full experience, "For the next solar eclipse, go as far as you need to go, it's worth every second"
Those whose saw the eclipse would agree it was a sight to see. Unfortunately back at west, mother nature was not agreeing. Heavy cloud cover was enough to leave some students underwhelmed. Junior Haley Wichman was "disappointed the clouds covered most of the eclipse" said Wichman, "I wanted to be able to see the eclipse."
Though meteorology teacher, Ryan Call, has seen a solar eclipse before, this was the closest to the path of totality he has been. "I had a mental checklist going in" said Call "It was awesome to see all the phenomena happen around us".
Though the sky may have been cloudy, those who were there to witness the solar eclipse will have a clear memory for a long time.