2016 Basketball Preview
How will the varsity team fare this year?
Basketball season is two days away, and the senior dominated Vikings look to improve on a disappointing 15-16 campaign.
This year's team will look extremely similar, with seven seniors returning and it's likely four of them will be in the starting lineup. The point guard, Zach Witters, is just one of these seniors.
"We're gonna be small, but we know how to play with each other," Witters said.
Witters was firing on all cylinders at the start of last year. He was even named to the All-Tournament team for a tournament hosted by SM North. However, a broken wrist created a arduous detour, and when he eventually returned, he wasn't the same.
"I came back later, but my shot was off," Witters said.
Now that his wrist has been healed for almost nine months, and he's been allowed to properly condition, Witters looks to make a huge impact on both sides of the ball. As evidenced in his play in the past, he can be an extremely effective ball handler and passer, and can play tough defense along the perimeter.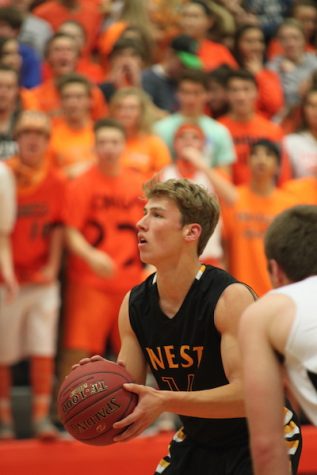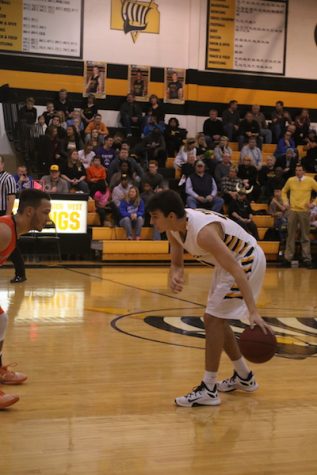 Senior Jack McMahon is another player looking to improve upon last year's performance.
"Looking back at last year, I wasn't quite satisfied with my performance in practice and games," McMahon said. "[In the offseason] I worked on on-ball defense, ball handling, and handling pressure when I had the ball."
"[Individually] I'd like to facilitate my team and help others while also finding shots at the right time," McMahon said.
In terms of team chemistry, it sounds like it's the last of this team's worries.
"We have good team chemistry […] we all played on varsity last year, so it's nothing new to us," McMahon said.
Witters had good things to say about his fellow backcourt starter, Mike Hood.
"He's fun to play with […] our relationship is good on and off the court," Witters said. "We can be tough to stop if we're both on."
Hood came to West last year from (blank) and became a go-to scorer early on. His ball handling and especially his three-point shooting won him Second Team All-League honors.
Overall, the Vikings are playing in a league that is slightly down in terms of overall talent.
"[SM] South is really tall, so we'll have to speed them up, and [SM] East is always solid," Witters said.
"East is always a rivalry. I'd like to see who they have returning and how we match up against them," McMahon said.
Friday, Dec 2 is the first game of the season and the Vikings will take on the SM Northwest Cougars.
Sorry, there are no polls available at the moment.