Album Review: "Wild World" by Bastille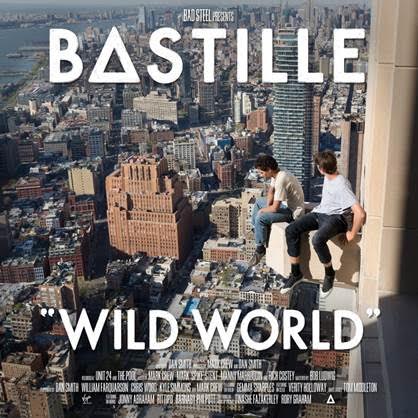 Bastille is an indie pop band from London that gained unpredictable levels of success from its first studio album "Bad Blood" released in 2013. The success of "Bad Blood" led Bastille to release compilation albums such as "All This Bad Blood" and "Other People's Heartache", but no new studio albums were forthcoming. None until September 9, 2016 when the band released its second album, "Wild World".
"Bad Blood" features multiple allusions to history and mythology in tracks like "Pompeii" and "Icarus". Bastille's second studio album focuses more on the news of now. The songs are mainly upbeat and catchy with some slower and more melodic tracks thrown in. 
Fast paced and upbeat "Good Grief" opens the album. Although a catchy and quick song, it discusses the pain of missing someone. A spoken intro to this song provides a unique opening to the album.
"An Act of Kindness" marks the third track on the album and the first slower, more melodic piece. It provides an interesting contrast to the upbeat, pop vibe of the prior two tracks.
The fourth track, "Warmth", discusses the overwhelming presence of politics on TV. Politics combined with news coverage of violent events result in television painting the world as a depressing place.
"Four Walls (The Ballad of Perry Smith)" makes track number ten on "Wild World". Inspired by Kansas murderer, Perry Smith, this song muses on the morality of capital punishment.
Neatly closing the album is "The Anchor". This song reports the necessity of needing someone to anchor you and guide you through this wild world.  While the album shines a lot of light on what is wrong in the world, this song shows evidence of good being present as well.
"Wild World" showcases all the factors present on "Bad Blood" that make Bastille such a unique band. In true Bastille fashion, the vocalist does little to disguise his English accent, allowing it to add to the distinctiveness of the sound. The lyrics on all but one song are arena friendly with a powerful chorus and incredible beat to accompany them.
Overall, "Wild World" does not differ musically from their prior album. Bastille did not experiment with their sound beyond what was delivered with "Bad Blood". However, the lyrics grapple with different topics and the album still delivers the strong vocals and instrumentals that rocketed Bastille to popularity. Despite lack of variation between the two albums, it was still enjoyable. For those unfamiliar and familiar with Bastille's sound alike, "Wild World" is sure to please by providing songs to sing along to and songs that make you think.