Playing Dirty
Students gather once a year to throw mud, flour and shaving cream at each other.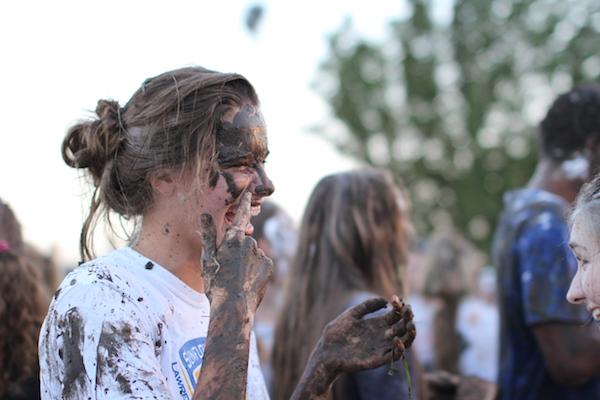 Once a year, over 100 students gather to fling mud, shaving cream/whipped cream and flour at each other.  The way Muckfest works is very simple; show up, throw stuff, get dirty, go home.
Muckfest is one of the most highly anticipated fall events for students in the district, and the event is put on by YoungLife. YoungLife is a Christian fellowship group that meets once a week. Despite its Christian theme, Muckfest is mostly focused on pure enjoyment.
"It's 100% for fun, it's for kids to come represent their school, but also to be unified as a Shawnee Mission District.  Kids get to have fun as they kick off the school year.  I think a lot of times, at the beginning of the school year, we forget that this is about fun.  With football and all of the other activities beginning in the fall, this is a reminder that you don't have to work as hard," Hannah Kenton, West's YoungLife sponsor, said.
Muckfest is an event used to promote the club and encourage exposure to YoungLife.  Everyone is more than welcomed to attend.  This idea of "open attendance" usually draws a large crowd.
"At Muckfest, you get more than the regular attenders of YoungLife, that would probably be around 100 with all the schools. A bit over that maybe. And then there are people that are like 'I like to throw mud at people' and they show up as well," James Leighton, senior, said.
Although mud is the focus, there are always three stages to the night, including water balloons, flour, and shaving cream. Students were asked to pay $2 each to help cover the cost of over 100 bags of flour, 500 cans of shaving cream, and trash cans full of water balloons.
"My favorite stage of Muckfest was the mud because when you threw mud on all your friends, they couldn't wipe it off, it stuck. You could find mud everywhere and at that point everyone was dirty and it was exciting," Josh Wells, sophomore, said.
"YoungLife is a great community of people. Everyone is just really awesome. I've made a lot of really good friends there. I got to meet people from other schools as well," Leighton said.
Muckfest not only gives students an opportunity to join in fellowship with each other, but also to have carefree fun.
Kenton described her favorite part about Muckfest to be "watching high schoolers get to be kids and get to be young again."