La Da Dee Da Dee. What's Up With Miley?
The MTV Video Music Awards is a big night for TV, music, and artists all around the world. This year, the VMA's were rumored to be one of the best yet and, in my opinion, they lived up to those expectations. I mean, kicking off the night with Ms. Gaga herself performing a tribute to her career and all of her interesting wigs while performing her new hit Applause? BANG! Kanye West (A.K.A. Yeezus) just a silhouette while drearily, yet amazingly performing  the first live rendition of Blood on the Leaves? POW! Drake starting off his performance with singing the first live performance of his new song Hold on We're Going Home, then ending it by transitioning to his recent hit Started from the Bottom? BOOM! Katy Perry in the ring as strong as ever performing her new single Roar? GRRR! Macklemore, Ryan Lewis, and Mary Lambert performing the touching, powerful, and truthful song about human equality Same Love, when out comes Jennifer Hudson belting out the end of the song with Mary Lambert? YES! Then topping it all off with a 20 minute long performance of pretty much every single Justin Timberlake has ever released, and then a surprise song with N'Sync? WHAT?! YEAH, THAT HAPPENED!
Okay so if you watched the VMA's I'm guessing you are thinking that I left a huge piece out of this line up, and you would be absolu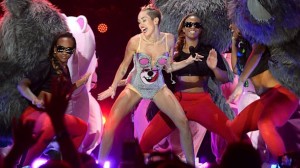 tely right! I left out Robin Thicke's performance featuring Kendrick Lamar and 2 Chainz in there song Give It 2 U, and me being a huge Kendrick fan I would have to say I enjoyed that performance quite a bit!
Okay, you got me. I'm still leaving out a huge part of the VMA's, which is the one performance I really want to talk about. This performance involved giant teddy bears, twerking, and a foam finger. Weird combination, right? Yeah a lot of people thought so as well as the media. The performance I'm talking about is Miley Cyrus's performance of her latest hit We Can't Stop. As you know Miley has reinvented her look, her personality, and even her music. I for one love her look and I love the song she performed at the VMA's. Others on the other hand, probably wouldn't agree. Most of the people that saw the performance described it as distasteful, crazy, and inappropriate. I even saw someone on twitter say she had a "chicken butt"! All jokes aside, Miley has drastically changed from being little Hannah Montana on Disney Channel, but I don't see anything wrong with that! As you grow into an adult, you start to realize who you are and who y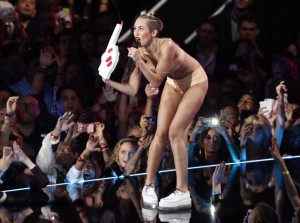 ou want to be! If we all go through that change, even though it may not be as drastic, who are we to tell Miley she can't be her own person? I mean don't get me wrong, parts of that performance were just too much, for example the whole twerking on Robin Thicke thing, gross, but other than that I like that Miley is becoming her own person and I actually was entertained by her performance at the VMA's this year.
All I have to say is do you Miley. Do you.