Do You Hear The People Play?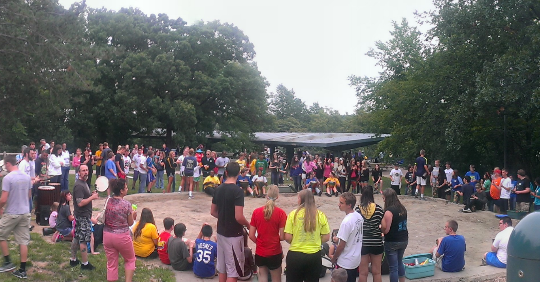 As a new school year starts, the marching band is once again taking the field.
The band is playing a composite of five songs from the 1987 hit Broadway musical Les Misérables.  The band plans to attend the Shawnee Mission Marching Festival, Lee's Summit North Marching Competition and the Festival of Champions at the University of Central Missouri in Warrensburg. The band hopes to improve on their 6th place finish at the Festival of Champions.
"This year the expectations for the band are to be better than the year before. I hope we place well at Warrensburg and when it's all said and done to have memories," Bill Thomas, band director, said.
"We chose Les Misérables as a show this year because personally I love the music; I think it's very dramatic. I had already thought about doing it anyway, then the movie came out and I thought perfect time let's do it now," Thomas said.
The five songs the band will be performing are: Work Song/ End of the Day, I Dreamed a Dream, One Day More, Attack on Rue Plumet, and Do you hear the People Sing. You can see the Marching Pride perform at home football games this year.
Along with giving up a week of summer break, the band also gives up four mornings a week until the entire show is set on the field, one evening rehearsal, home football games, and occasionally a Saturday.
"We prepare for the show by getting together several hours before games and competitions to get into uniforms and it gets everyone excited," senior drum major Erin Beckman said.  "The responsibilities of the drum majors are making sure everything is ready for rehearsals, games, and competitions, taking care of any problems that might arise before it has to be taken to the directors.  We also make sure everyone is having a good time, and conducting of course. We, the drum majors, also get together before half time and talk and remind each other of difficult parts to remember during the show," Beckman said.
The drum majors are senior Beckman, senior Natassia Howell and junior Thomas Flick.