A Day to Remember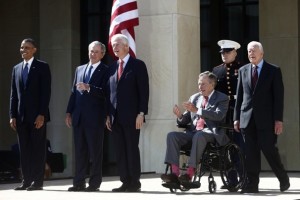 A days ago, the George W. Bush Presidential Library and Museum was officially dedicated. All five of our living presidents were present at the campus of Southern Methodist University in Dallas, Texas, to witness this historic event. These men spoke at the dedication on Bush's accomplishments and triumphs during his presidency.
This dedication has added to Bush's increasingly positive public opinion. Many who used to focus on the bad things of President Bush are now beginning to remember the good. Although Obama has ridiculed Bush's leadership tactics in the past, he had nothing but good to say on Thursday. He said during his speech that "he takes his job seriously, but he doesn't take himself too seriously. He is a good man."
Former president Carter, who was, at the time, very against the Iraq War, praised Bush on the help he gave to Africa, especially in the ending of the war in Sudan. Mr. Clinton recollected in his speech of his fond memories of his talks with Bush while he was in office. Bush's father only said a few words, but received a standing ovation as he stood up from his wheel chair at the end of his speech.
The $250 million library and museum highlight the most influential events in Bush's presidency. It informs and educates about the countless difficult decisions that had to be made. The museum, which is 14,000 square feet, features a Texas Rose Garden and a full sized oval office. It also has a large mangled beam from the World Trade Center as a shrine to that horrific event on September 11.
It is very rare for all five presidents to meet together, and whenever it happens, it is always a historical day. It is truly a sign of hope when five men with very different political views can put aside their differences for the sake of something wholly good.