Angry Birds Space Review
Over half a billion downloads later, the next installment in the wildly popular Angry Birds series is finally here. Does Angry Birds Space land among the stars, or does it crash and burn?
The premise of Angry Birds is simple. Evil green pigs have stolen the birds' precious eggs, and now they must journey across the galaxy to get them back. Players launch the birds from giant slingshots to try and destroy the pigs situated in protective structures. The birds have a variety of abilities; some split into three separate birds, some travel at super speed, and some explode, which provides some extra depth and fun to the game.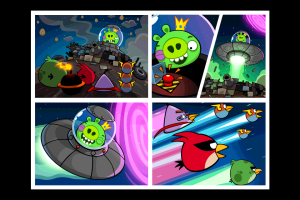 Angry Birds Space takes this simple formula but adds a new twist:  space-based physics. The game continues the clever level design of its predecessors into deep space, which opens up a host of new possibilities. Players now must deal with the planetary gravitational fields, allowing for the ability to slingshot the birds around planets and perform trick shots. On particularly challenging levels, players can choose to use the powerful Space Eagle, which opens up a black hole and sucks up the evil pigs. Additionally, players can unlock hidden bonus levels. These new changes are a fresh step forward for the series.
Angry Birds Space is so polished that it is difficult to find any significant flaws. My only complaint is with the controls. Although a trajectory line aids with lining up good launches, I felt like the game was not very responsive to the more minute movements of my finger. Although I had a thoroughly enjoyable experience on my iPhone, Angry Birds Space may be better suited for the larger screen of the iPad.
For fans of the series and newcomers alike, Angry Birds Space is worth a look. Developer Rovio has managed to spin an old formula and make it fresh. Needless to say, Angry Birds Space is sure to provide hours of quirky, exciting fun.
9/10 Stars
Prices:  $0.99 for iPhone/iTouch, $3 for iPad, $5 on Mac App Store, $6 for Windows, and free but ad-supported version for Android