Sophomore Born On February 29 Celebrates Fourth Birthday
Considering that 2012 is a Leap Year, many are finding obvious reason to celebrate. Some threw random Leap Day parties and followed certain routines for good luck. This time around, though, sophomore Karthik Kailash celebrated turning four years old.
"I haven't found anyone else in my life before that has had the same birthday as me, so I find that very special," Karthik said.
Karthik is what many refer to as a "Leap Day Baby," as February 29 only occurs once every four years. In celebration of the date, his parents, Bharthi and Kailash Kailash, brought in cake and drinks for his seventh block class, Calculus BC, taught by Helaine Cohn.
"We knew a while ahead that Karthik was a Leap Day baby – at the beginning of the month somebody started mentioning it. But his dad e-mailed me a couple days ahead of time saying "Can we bring in a cake?" and we never turn down food," Cohn said.
When Karthik was born back in 1996, Kailash was hoping not that his son would be born on February 29, but on his birthday, February 14. After being a week overdue, his wife finally went into labor on Leap Day.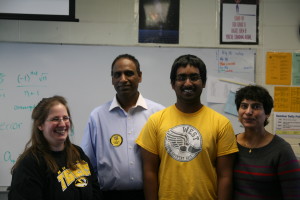 "Finally it was February 29 and we were like "Oh, he's going to be a leap year boy." We didn't know he was going to be born on February 29 until that day," Kailash said.
Going through life as a Leap Day Baby has peaked interest in many people Karthik has run into.
"My teachers were pretty interested in it; some people didn't think I was telling the truth when I told them," Karthik said.
Cohn's seven year-old daughter has become completely fascinated by people born on Leap Day. Her four year-old sister missed Leap Day by one day – she was born on February 28.
"I thought, 'Cool, Karthik is turning four and now I have a great story to tell my seven year-old.' So I was excited," Cohn said.
Though he was born on such a special day, Karthik doesn't find it as an excuse to not work hard.
"It has affected me to work a little bit harder, thinking 'Oh, February 29. I'm a little special there. I should show up to the reputation maybe,'" Karthik said.
Though Karthik feels that his birth date is an excuse to not have a birthday party, his parents still finds means to celebrate.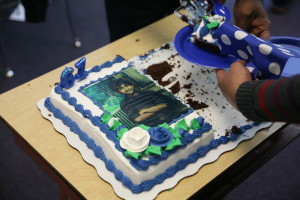 "Basically we feel like his real birthday only comes around once every four years. [When it's not a leap year] sometimes we do it on the 28th and sometimes on the 1st, so it's not a fixed date," Kailash said.
Because of a myth featured on the TV show 30 Rock, Karthik showed up for school sporting a yellow t-shirt and blue pants.
"I didn't know about that until last week. So I decided to wear yellow and blue," Karthik said.
Though Karthik hasn't found anybody who shares his birthday yet, he still has hopes that he can someday. But, just like the day he was born, it will be difficult for both he and his parents to predict the future.
"I hope we find other family members that are born on the 29th so he can spend more time with Leap Day kids," Kailash said.
Photos: Ryan Lansdon
Famous February 29 Birthdays:
1468 – Pope Paul III (d. 1549)
1792 – Gioacchino Rossini, Italian composer (William Tell, The Barber of Seville) (d. 1868)
1896 – Morarji Desai, former Indian prime minister (d. 1995)
1916 – Dinah Shore, American singer (d. 1994)
1924 – Al Rosen, American baseball player
1924 – Carlos Humberto Romero, former president of El Salvador
1960 – Anthony (Tony) Robbins, American motivational speaker
1964 – Lyndon Byers, Canadian hockey player
1972 – Antonio Sabàto Jr, Italian-born actor
1976 – Ja Rule, American rapper and actor
1980 – Chris Conley, American musician and songwriter/composer