Fundraiser Walk in Honor of Tom Karlin
[nggallery id=11]
From afar, anybody at the park would understand their unity. Clad in blue, and holding sky-blue balloons, the walkers and supporters at the First Annual Tom Karlin's Turkey Walk were undoubtedly together and strong.
The approximately 1.5 mile walk drew over 100 people. The walk was organized by Liz Kampschroeder in an effort to properly recognize the high school senior's life.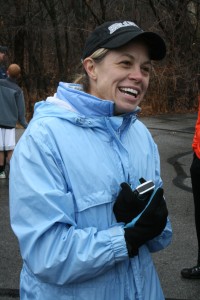 "We were trying to come up with something that we felt would be a wonderful way to honor Tom and celebrate the community and the Karlins," Kampschroeder said.
Although rainy, the community still gathered for the event.
"It was a little a bit colder than what we would've anticipated, but it did stop raining. We knew, rain or shine, people would come and support this wonderful event," Kampschroeder said.
Many students and friends of Karlin's from West came to the walk.
"I came out to support Tom. I'm proud to do something for him," Grant Harper, senior and friend of Karlin's, said.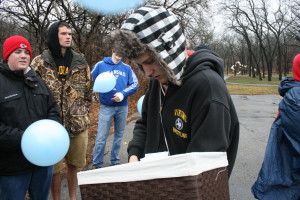 "We need to be here to support Anna [Karlin] and the Vikings," Betty Thomas, sophomore, said.
The event was organized to raise money for suicide prevention and teenage depression programs. Donations were accepted throughout the walk.
"We live in an amazing community. It's just so wonderful to see the amount of support of all the friends and family. We're looking forward to next year, to make this an even bigger event," Kampschroeder said.
Words and photos: Andy Gottschalk, Dylan Crow