Who's Who With Sara Hundertmark
Q) How long have you been teaching?
A) "I have been teaching since 1998."
Q) Where have you taught?
A) "For four years I taught Elementary Spanish throughout Pawnee, Apache, Cherokee, Comanche, and Dorothy Moody. I have been teaching at West since 2002."
Q)  What classes do you teach?
A) "Spanish 3 and 6."
Q)  Being a West alumni, what was your experience like during high school?
A) "I Graduated in 1993. My boyfriend was the head officer in the ROTC program. I was in gymnastics with Sisk, played the clarinet in band, and had a full schedule (we weren't allowed to drop anything then). It was a year of friendships and a much more social experience."
Q)  Where did you go to college?
A) "I Went to Kent State in Kent, Ohio. The school is best known for people who were killed while protesting during the Vietnam War.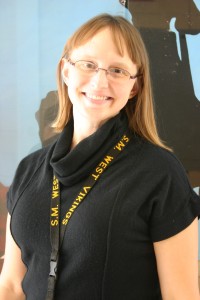 Q)  If you weren't a teacher, what would you do?
A) "I would be a stay at home mom for my six year old son Henry or become a missionary."
Q)  What did you have to do to become a Spanish 6 teacher?
A) "I was asked by the previous teacher, Mrs. Herdoiza, but I also applied.
Q)  What are your reactions to being the new Spanish 6 teacher?
A) "The class is entirely in Spanish. It is very challenging, but exciting and rewarding. It takes a lot of time to come up with lessons and during class if you talk in English, you have to come to the front of the class and sing with a lobster. I have used it the most(laughs).
Q)  What advice would you give to someone wanting to become a Spanish teacher?
A) "Use your Spanish in as many settings as possible and do not be afraid to use it in your community as well."
Q)  What is something interesting about you?
A) "I am a Jehovah's Witness and go door-to-door every Saturday."
Q)  What do you do outside of school?
A) "Who has free time? Although if I do, I play with Henry."
Q)  Describe yourself in three words.
A) "Motherly, organized and enthusiastic."