Pottermore To Enhance Harry Potter Experience
Thirteen years after the series' first book release, Harry Potter's creator, J.K. Rowling, has proved that the literary legend will truly never die. Rowling's newest Harry Potter-oriented release is expected to hit soon in October, but this time it isn't a book or a movie.
Pottermore is an online reading experience "unlike any other," says Rowling.
This new website of interactive components, like games and discussions, is expected to enhance the existing seven Harry Potter books. Rowling's Pottermore was created to give back to the "loyal" fans, and provide for them a new Potter-based experience, made for the fans.
"It's the same story with a few crucial additions, the most important of which is you," Rowling said about the site in a YouTube video sneak-peek.
It will also be the exclusive vendor for audio books, and for the first time ever, e-books.
Rowling also promised some surprises. She is taking part in the website and will periodically update.
"I will be sharing additional information I've been hoarding for years," she said.
The site is opening in October, but some lucky several have been chosen early to participate in the site before its release. They were chosen through "The Magical Quill Challenge" – a test to determine the early admittances. Those who participated in the challenge answered questions and solved clues, and dependent on their performance, were admitted early into the beta site. One of those fortunate few who passed The Magical Quill Challenge is freshman Katherine Riedel.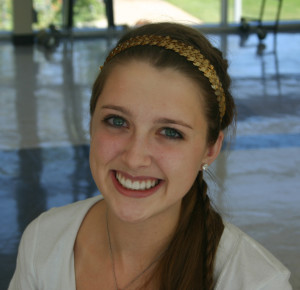 Riedel was accepted into the exclusive Pottermore.com on the third day of registration. After her tests on compatibility and personality, she has since been sorted into the Slytherin house, and chosen a wand.
Riedel entered the Pottermore website with a curious approach. She described the site as the same Harry Potter books, but in much greater detail. The visitor of the site follows the series, chapter by chapter.
"You explore things as Harry does," Riedel said.
Riedel was free to make discovers, and buy clothing and books like the students of Hogwarts. She made home in her new Slytherin common room, talked to other students, and earned house points. Right now, the visitor can only access the first chapter, but more are to come.
She used the site almost as an aid to the books as well as a tool to discover more information that the books didn't share. Back-stories of main characters and character relations that were before never exposed will soon be revealed. She recommends reading along as you explore the site and its chapters.
"You can see more of what J.K. Rowling was thinking," Riedel said.
The site's future also excites Riedel. She's looking forward to hearing more from J.K. Rowling, and exploring the new chapters that will be released.
"Pottermore has been a really great way to give back to the Harry Potter readership, who made the books such a big success," Rowling said.