2019 PDC World Darts Championship Preview
The 26th edition of the PDC World Championship kicks off on December 13 at the Alexandra Palace in London. This year's tournament will see the largest field size, from 72 last year to 96 this year. In this article there will be information about the event, as well as my predictions and players to look at.
Qualification and Format:
Players qualified through three methods: The top 32 on the PDC Order of Merit (OOM,) the top 32 on the Pro Tour Order of Merit that haven't already qualified from the PDC OOM, and 32 qualifiers from international qualification tournaments. The top 32 from the PDC OOM are seeded and receive byes into the second round. The top 32 from the Pro Tour are paired with an international qualifier, and they will play starting in the first round.
Section 1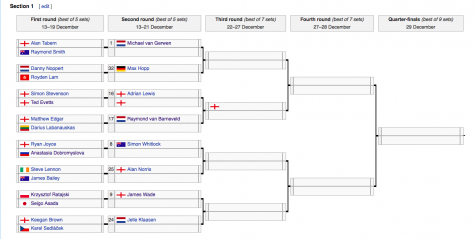 Even before looking at the draw for this section, Michael van Gerwen Is the obvious favorite for section 1. Van Gerwen has won three major and 19 total titles this year, and this has been considered an off year for him.
James Wade, who won the European Championship and the World Series Finals back to back, looks to be back on track and could make it far in this tournament.
One of the biggest storylines from the tournament as a whole is centered around six time World Champion Raymond van Barneveld, who announced he was retiring after next year's World Championship. Barney has struggled with lackluster performance over almost all of this past year. Besides winning the World Cup with his Dutch compatriot Michael van Gerwen, van Barneveld had only made the finals of the Masters, and finished in the last 8 of last year's WC. Despite his declining form, Barney believes he still has one more WC title in him. I'm not sure he'll pull it off, as he potentially meets Michael van Gerwen in the round of 16. They have had some historic clashes in the past, but I believe Barney will have to play well above his current form to beat the Green Machine.
Three non seeded players from this section are Anastasia Dobromyslova, Seigo Asada and Krzysztof Ratajski. Dobromyslova is one of the winners of the two female qualifiers, and she has won three BDO Women's World Championships, and has finished as a semifinalist or finalist in five of the other six BDO WCs she has played. She makes her return to the Ally Pally for the first time since 2009, where she lost in the preliminary round. She has shown to be a capable player with the women, I'll be interested to see how she ends up with the men. She plays Ryan Joyce in the first round, and will face 8 seeded Simon Whitlock if she wins that match.
Seigo Asada makes his second PDC WC appearance after winning the Japanese qualifier. He has won three PDC Asia titles this year, and was a part of the Japanese team to upset Austria in the World Cup earlier this summer. Asada is also a successful soft tip player, making a name for himself on the Perfect darts tour, as well as making appearances at Live Darts. He is matched up against Krzysztof Ratajski for the first round.
Krzysztof Ratajski won two Players Championship titles in one weekend in October, being one of only eight players to accomplish the "double header." The Polish Eagle made the knockout stage at this year's Grand Slam, and made the last 16 at the Players Championship finals, beating Gerwyn Price 6-5 in the first round after being down 5-1. I think Krzysztof Ratajski is the strongest non seeded player in this section of the draw, and his first round match against Seigo Asada will be one of the most interesting. The winner of that match goes on to play against James Wade.
My Predictions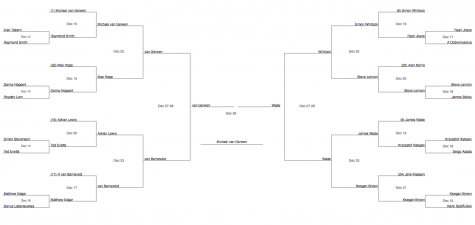 Section 2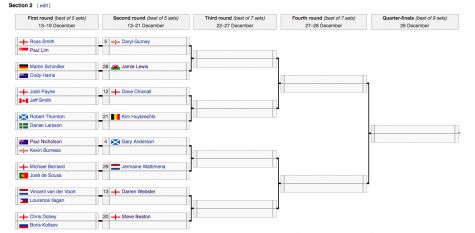 Like section 1, section 2 has a pretty obvious favorite in Gary Anderson, who has won three majors and seven total titles this year, which would probably be more if he played on the Pro Tour. He also finished runner up at the Grand Slam and a semifinalist in the Players Championship Finals, where he met Michael van Gerwen in the semifinals of both.
Daryl Gurney could make a decent run, as he seems to be in pretty good form, winning the Players Championship Finals.
Fireball Jamie Lewis is another seeded player from this section I'm very much interested in. He hasn't had the best year, but I'm more excited to see how he follows up his cinderella run last year when he reached the semi finals, becoming the first player to make the last four after beginning in the preliminary round.
The non seeded players from this section I'm most interested in watching are Martin Schindler, Paul Lim and Paul Nicholson. Martin Schindler has had an okay year, most notably reaching the quarterfinals of the World Cup with German teammate Max Hopp, and finishing as a runner up in the PDC World Youth Championship. He hasn't made it very far in any TV events this year, but I'm waiting for him to make a breakthrough. He begins his WC campaign against Cody Harris, and will square off against 28 seed Jamie Lewis if he wins that.
Paul Lim is always one player that I will watch with great interest. At 64, Lim is the oldest player in the field, and was the first player to hit a nine darter in any World Championship. He hasn't really ever gone that far in either the BDO or PDC World Championships, but he's always very entertaining, and for that reason he's a good player to watch. He plays Ross Smith and the winner of that match faces five seed Daryl Gurney.
Paul Nicholson is more of a big story rather than someone I think will go far. The last time the Asset took the Ally Pally stage was 2015, after which he failed to qualify the next three years. He's made a return to decent form, but still has more to prove. Hs first round match is against Kevin Burness, and four seed Gary Anderson meets the winner.
My Predictions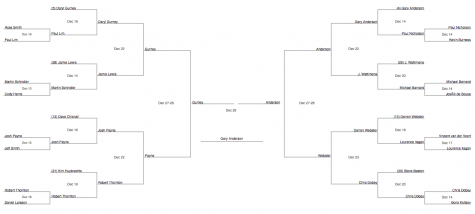 Section 3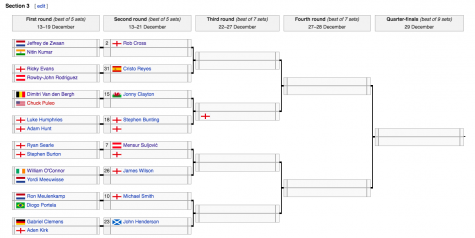 Section 3 is a bit of a toss up on who will come out the victor. Defending World Champion Rob Cross is struggling with form, only winning two other titles in 2018. Most recently, he went out in the first round of the Players Championship Finals. It wouldn't surprise me if he went far, but it wouldn't surprise me if he didn't.
Mensur Suljović is one of my top picks to make far in this section. His form has been at an all time high in the last two years, and it seems to be going higher.
Michael Smith is another seeded player who has broken out recently. Finishing second in the Premier League and winning the Shanghai Darts Masters, the Bully Boy has a really good look going into the WC. It wouldn't be a stretch to say that he makes the Last 16 or maybe even further.
31 seeded Cristo Reyes has flown somewhat under the radar, but has pulled off a couple pretty big wins, beating Rob Cross 6-1 in the first round of the Players Championship Finals and Mensur Suljović 6-3 in the first round of the European Championship. Reyes might need an upset of Rob Cross in the second round to go far.
This section might have three of the best and most exciting to watch non seeded players in Ricky Evans, Jeffrey de Zwaan and Dimitri Van den Bergh. Rapid Ricky Evans is one of the more exciting players in the world of darts due to a fast throw and goody personality. Most recently he made the last 16 at the Players Championship Finals. I'm not sure if he'll go far, but every match with him in it will be exciting. Rowby-John Rodriguez is his first round opponent, with Cristo Reyes to meet the winner.
Jeffrey de Zwaan is my dark horse for this tournament. He beat Michael van Gerwen in the UK Open and the first round of the World Matchplay, ending up a semifinalist in the latter. He also won Players Championship 10 this year for his first career title. His first round opponent Nitin Kumar should be a decently easy match, and I think he is very capable to beat Rob Cross and go further.
Reigning PDC World Youth Champion Dimitri van den Bergh's odds are a little bit better, so he's much less of a dark horse than Jeffrey de Zwaan. The young Belgian hit a 9 darter in this year's Grand Slam in which he finished as a quarterfinalist in, and he made it to the quarterfinals of last year's WC. Dancing Dimitri can go really far, taking on American Chuck Puleo and then 15 seed Jonny Clayton if he wins.
My Predictions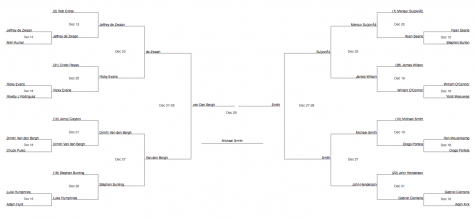 Section 4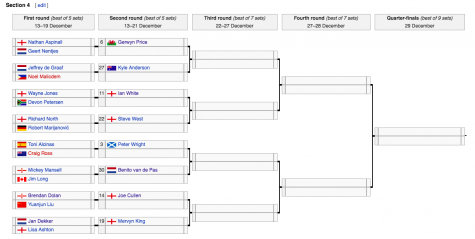 Section 4 might easily be the weakest group of the entire tournament. The strongest player would be either Peter Wright or Gerwyn Price. Wright has seen a dip in form most recently, failing to produce anything in major tournaments. Price was the winner of the 2018 Grand Slam in possibly the most controversial final of any tournament of any year, and has a love hate relationship with the crowd, getting a lot of boos- but seems to feed off of it. He's not more naturally talented than most of his opponents, but he can get in their heads easily. If Price can put off his opponents off and plays his own game he could reach the quarterfinal, but I don't see him going any further than that.
14 seed Joe Cullen went pretty far in the World Matchplay, and he could maybe break out this year, as he only has one win in nine matches at the World Championship.
No one really interests me in the last section for unseeded players besides Brendan Dolan, Jan Dekker and Lisa Ashton.
Brendan Dolan has always seemed like a pretty steady player, Jan Dekker's finishing is top notch, and Lisa Ashton is one of the two female qualifiers. Other than those facts there's not really much to talk about them.
My Predictions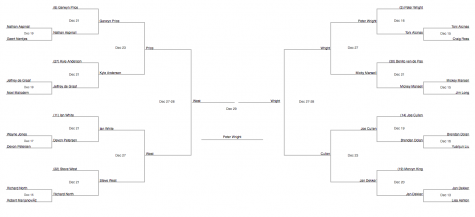 My Last 8 Predictions