Review: If You're Reading This It's Too Late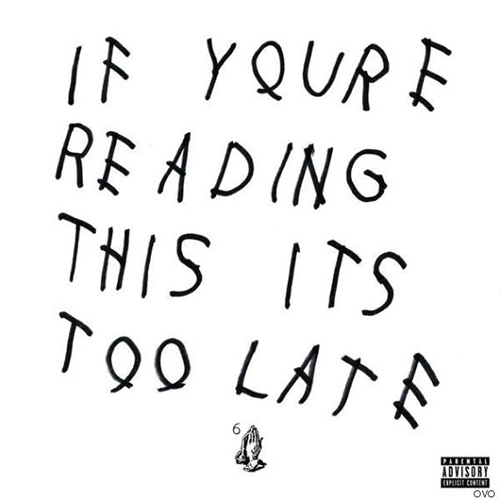 Honestly, if you were to tell me that I would be listening to an entire Drake album/mixtape a year ago, I would be dumbfounded, but here I am listening to "If You're Reading This It's Too Late". The biggest surprise about this entire thing: I am actually enjoying it.
"IYRTITL" is a 17 song album/mixtape by Drake that was released on Feb. 13, 2015. It comes in the midst of conflict regarding Drake's label "Cash Money Records" and one of its most popular members, Dwayne "Lil Wayne" Carter. Carter sued Cash Money Records for $51 million dollars. Carter also wanted keep many artists under his own label including Drake. This is where it gets interesting, as some journalists believe that the release of this new album/mixtape by Drake is to fulfill a four album deal he made with Cash Money Records. Finishing his deal with Cash Money would allow Drake to leave the label and join Carter. Whether or not this is true is still yet to be known, but it's definitely an interesting possibility.
Drake experiments with this new release and deviates from his usual downbeat, more emotional rapping style. He dabbles in a more aggressive delivery, and it's actually refreshing to hear this coming from Drake. One of my biggest problems with Drake was his fluctuation between delivery on his previous albums. One song would be super emotional, and the next one would be a banger that you would drive around blaring through the speakers of your 1994 Toyota. It was really tough to try to listen to one of his albums all the way through, so I mainly stuck to his singles and one or two songs off of his albums. This new album, "IYRTITL," remedies this problem. There is still variety between songs, but it is much less often and doesn't disrupt the flow of the album at all. That's one thing that I actually really enjoy about this album. It has great flow not only between songs, but also Drake's flow when he raps is new and impressive.
The instrumentals on the album are pretty impressive too. The beats are mainly trap beats, or beats with a lot of hi-hat drums and bass kicks, and they work really well with the more aggressive tracks on this album. It gives him room to be versatile, though. On a song like "6 Man," Drake can make the song's mood change just by removing the hi-hats. Surprisingly, it still sounds good. My favorite instrumental from the whole album might just be "6 God". The sample on that song is amazing. It really sounds great. The overall sound of the album is very trappy, and it might just be because I like trap music, but I actually really enjoy the instrumentals on this album. They perfectly compliment Drake's more aggressive style, but give him room to slow it down as well.
This album/mixtape's reception reminds me a lot of how "Yeezus" was received. Fans of Kanye West were initially confused and dumbfounded because "Yeezus" was such a radical change from the Kanye that everyone had grown to know. The problem is trying to use the older works of an artist as a comparison point to their new works. Artists are like regular people and go through change like everyone else. Their works also go through changes. Drake's album reflects that. He has changed from a rapper who was "in his feelings" to an aggressive sounding rapper who no longer takes anything from anyone. This sudden change in his sound is sure to upset long time Drake fans, but give it time and it will shine through as one of his most original works.
Overall, I think that "If You're Reading This It's Too Late" is pretty good album. Like any album, it has its flaws, but honestly I think it's a good album and a great Drake album. It's a nice change of pace from the usual slow or emotional kind of work that Drake has put out. It might make traditional Drake fans feel a bit uncomfortable hearing him try out a new style, but honestly, I liked it. I would give it a 7/10.