The Internship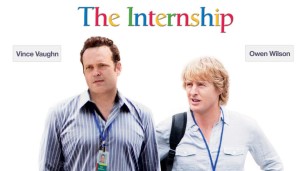 This summer is full of great movies, one in particular is the new comedy, The Internship. The Internship is a movie about two salesman whose careers have been plunged by the digital world.  Trying to prove they aren't behind our time they talk their way into an internship at Google with many smart college students.  They learned quickly that just getting in was half the battle.  Now they compete to be with the nation's top geniuses to prove themselves.
The main characters of this film are Vince Vaughn as Billy and Owen Wilson as Nick.  Vince Vaughn wrote the film and Shawn Levy as the director.
This movie will be one of the greatest comedies of 2013.  It brings the tech-savvy world we live in to life.