The Muppets: Movie Review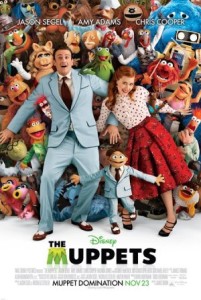 What can be said about the muppets? They're a lovable gang of misfits. A pig, a frog, a bear and a band of, well, monster-like puppets that can dance, sing, tell some great one-line jokes and know how to hit the heartstrings of an admiring audience.
The furry, made-from-felt friends that can be remembered from childhood are back in their new, self-titled film "The Muppets". This time, however, things are a bit more different than what we remember from their variety show antics and popular, themed movies. The muppets need to save their studio or else they'll have to say goodbye to show-biz.
Led by the humble yet commendable Kermit the Frog, this great group of family-loved oddballs are in fear of losing the Muppet Theater (the place where all the music and laughter goes down).
In an effort to save their beloved home from Tex Richman (Chris Cooper) and his plan to turn the theater into an oil drilling site, Kermit uses the help from big fans, Gary (Jason Segal) and Walter (Peter Linz).
The story follows Kermit and Walter's road trip-style attempt to reassemble the now separated group through catchy musical numbers written by Bret McKenzie (singer and writer of Flight of the Conchords) and slight references to earlier movies featuring the muppets.
They find Animal, the band's drummer at an anger management therapy session. Miss Piggy is appropriately working for Paris Vogue, decked in head-to-toe Chanel. We find where the adorable gang has departed since our last encounter.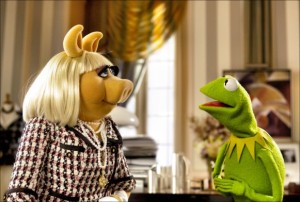 Charming little quotes and dainty morsels of moral lessons were thrown at appropriate times by some of the characters. ("Maybe you don't need the whole world to love you, you know, maybe you just need one," said by Kermit to Miss Piggy.)
But unlike Pixar films (the dominating force in today's animation) "The Muppets" was kind of a bore to the older audiences. Sure, there were some sparing parts to entertain the ticket-payers (an a Capella rendition of "Smells Like Teen Spirit" from Nirvana; a chicken-sung version of "Fuck You" by Cee Lo Green), but overall, only children could fully appreciate the film's sparkly and juvenile cover.
The film didn't necessarily lack a plot – it had one – just a very underdeveloped plot. This wouldn't be a bother to anybody under the age of 11, but to others, the film was at times tiring. (An older gentleman in the theater I was in was snoring halfway through the film).
Although sometimes boring, the muppets did promise a return of full-fledged muppet-ness. Cameos from stars like Emily Blunt, Donald Glover, Jack Black, Whoopi Goldberg, Selena Gomez, Sarah Silverman and many, many more kept in the style of the muppets' tradition of having guest stars on the original "Muppet Show". Celebrities shamelessly crowded the screen in style of the classic variety.
Cute, "Muppets" is a film to be appreciated by a family, but not critics. Although possessive of little cinematic merit, the movie can entertain the audience willing to watch. A delightful addition to the slew of serious movies currently out in theaters, "The Muppets" can show us what family (not taken in its most literal sense) is really about.
Rating: 3 / 5 stars
Photos: The Muppets