Patients Are A Virtue
Shawnee Mission West nurse finds happiness in treating students, acting as advocate
School faculty members provide much needed services. They keep students safe, healthy, and in order in whatever way their jobs demand. Much of the time, however, students can forget what services these faculty members provide and how important those services are, unless they regularly find themselves in contact with them.
One member of the Shawnee Mission West faculty that provides one of the most necessary services is resident nurse Marilyn Mortimer. Although she tends to many students, Mortimer remains a personal and important force to West's student body.
"[I typically see] somewhere between 80 to 100 students a day," said Mortimer. "It's like an ER without a doctor. Everyone that comes in, I do one on one with them. If it's a menstrual pain, I help them with that. If they have a headache, I'll help them with that. If they have anxiety, I help them with that."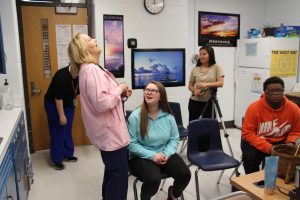 Given that Mortimer sees about one-twentieth of West's population per day, she handles a variety of cases and health issues, although she admits that there are a few aches and pains that appear more often than others.
"Headaches are the most common. [When a student comes in with a headache,] I make sure they've eaten and take their temperature," said Mortimer. "The second most common thing are menstrual cramps. I give [students] tylenol or a heating pad."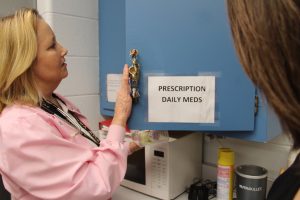 Other students come in often for chronic ailments and other health conditions, like diabetes, ADHD, eating disorders, asthma, allergies, and so on. Because they come in consistently for medication or other treatments, Mortimer has developed more serious relationships with those students, and can usually anticipate their needs.
"I know the students well, so I know what to do with them," said Mortimer.
Although those cases are readily treatable, Mortimer often has contact with students who require much more attention and care. She said that she gets at least one student a day that has a serious health issue, and often has to refer them to hospitals, or, in extreme cases, emergency care.
"
I know the students well, so I know what to do with them."
— Nurse Marilyn Mortimer
Mortimer also deals with students whose conditions cannot be treated so easily with medication or hospitalization. The number of mental health cases that come to her are rising, and often time can be the source of much more physical problems. Transgender students also come to her office because they feel more comfortable in the non-gender specific nurse's bathrooms.
Health is an important issue to students, and Mortimer is responsible on a daily basis for ensuring that West students either get healthy by her hands or by those of another doctor or institution. Although her job can be testing at times, she feels a deep satisfaction in her work that comes from her patients and the ability to speak up for them.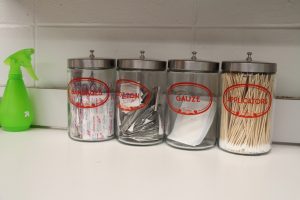 "I love the students. Sometimes I'm an advocate for them when they have something wrong and they can't get help… [I'll] talk to a parent and explain the necessity of getting them to a doctor to get help. That feels good to know that I'm helping someone that might not get helped otherwise. Being an advocate is a big part of [my job]."
Being a high school nurse can be difficult, Mortimer says, and it's difficult to imagine how hard it can be handling nearly a hundred students during an eight-hour period. However, she says that making people healthier and happier is a major plus side to her work. Even though a nurse's job may be one of tests, Mortimer manages to pass all of them with a love for her profession and her patients.
Watch this video for an interview with Mortimer's aid, Natalie Heaker.