How to Survive The First Football Game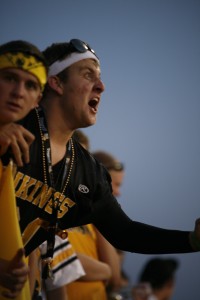 The first game of the season is right around the corner! We're here to give you a few pointers on how to make it through the first varsity game of the year!
GET LOUD! Shawnee Mission West is known for an enthusiastic, rambunctious and rowdy crowd. Even if you get to the game late and end up getting in the back, your voice is still heard. Yell your head off!
KNOW THE CHANTS! The West student section can only be loud if we all cheer together. When the seniors start a chant, you need to join along. Repeat the chant three times, and you will also be a part of this amazing crowd!
KNOW THE GAME! The football game will be as much fun as you make it. If you don't understand what's going on in the game, then how will you know when to cheer? Figure it out!
FOLLOW THE WEST WAY! We know that the fans get just as heated as the football team, but there is no excuse for negative or rude comments towards the other team. We love to see people stand out in the crowd, but not for something negative!
IT'S ALL ABOUT HYDRATION! Hydration is key.
DRESS APPROPRIATELY! Wear black and gold! It's our school colors, duh!
FOLLOW THE LAW! Remember that alcohol, drugs, and tobacco are not allowed. Do not fight the opposing school before or after the game. Stay safe!!
Written by: Abby Holliman and Joel Spiller