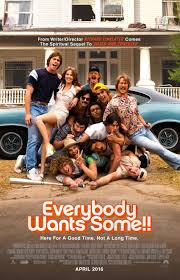 #5- Everybody Wants Some!!
I didn't have a better time in the theatre this year than when I saw "Everybody Wants Some." It centers on a group of college baseball players in 1980, and all the hijinks that ensue. It's much more than the funniest film of 2016; there's also some heart behind the thick layer of testosterone-fueled tomfoolery. Director Richard Linklater crafts full bodied characters, each with their own distinct, memorable personality. Full of wisdom and laughs, "Everybody Wants Some," leaves you with the message to enjoy the little things and to live life to the fullest.
The Epic Online intends for this area to be used to foster healthy, thought-provoking discussion. Comments are expected to adhere to our standards and to be respectful and constructive. As such, we do not permit the use of profanity, foul language, personal attacks, or the use of language that might be interpreted as libelous. Comments are reviewed and must be approved by a moderator to ensure that they meet these standards. smwest.com does not allow anonymous comments, and smwest.com requires a valid email address. The email address will not be displayed but will be used to confirm your comments.