Black and [Goal]d
Girls Soccer celebrates state title
While everyone was still celebrating the school years end, the girls soccer team was celebrating something a little different. They won the 6A state championship for girls soccer, an achievement not awarded to a Shawnee Mission school since 2000. Three months later, players, parents and fans gathered in the Little Theatre to celebrate the way that all champions celebrate. No not a champagne shower, but with a ring ceremony.
The ceremony started with a video recap of the weekend, beginning with a goal by Sinclair Miramontez in overtime to win the semi-final match. It then switched to a replay of a goal scored with 18 minutes left in the championship game to win it for the vikings. Even though the goals in the video took place three months earlier, parents and fans still found themselves cheering. Those moments still hold a special place to everyone that experienced it. Just ask Maddie Wilkus, the one who scored the winning goal in the championship game. "It brought tears to my eyes," Wilkus said. "I get emotional every time I watch it.
After the video, coach Gonzalez listed off the accomplishments the Lady Vikings achieved over the course of the season. The Vikings season started off with a mid-season tournament win at Olathe Northwest. Over the regular season the Vikings went undefeated and finishing on top of the Sunflower League. They finished the season with a record of 20-0-1. Though finishing the season undefeated, they made very exciting for the fans by having seven games won in overtime. One of which includes the regional final that ended on a goal by Hannah Miller with three seconds left in quadruple overtime. In the end, the Vikings had a season worthy of ranking them sixth in the entire nation.
The ceremony then moved into giving the players their rings. One by one they were called up to receive their rings from coach Gonzalez. Sinclair Miramontez even made a special appearance all the way from Lincoln, Nebraska in the form of FaceTime.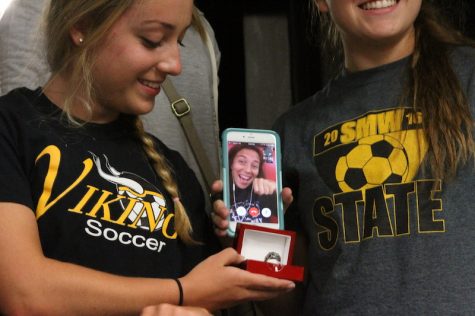 Even after the biggest achievement of her career,  she shifted her point to the players. "I feel happy for the girls because of all the hard work," Coach Gonzalez said. After years of success but no title, she said "It feels great to finally reach that goal."