Cafe of Dreams
Cafe 29 is a visible way to remember Andre Maloney.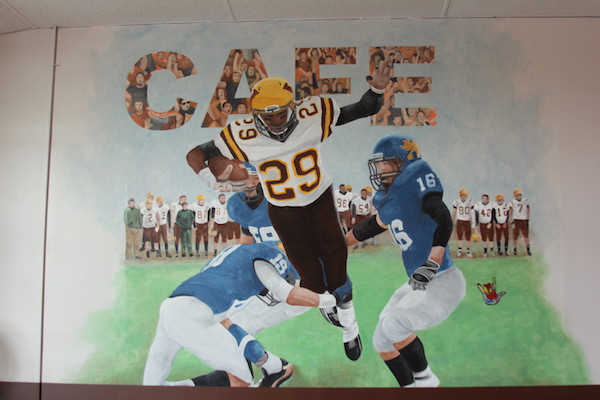 Football player, Andre Maloney, collapsed on the sideline of the field after scoring a touchdown two years ago. He passed away shortly after, but his memory still lives on through his family, friends and teammates.  
Tim Callaghan, Andre's coach of four years remembers Andre for many things but especially "His work ethic, smile he had on his face when he did work, and his sense of humor".
"He inspired me to always play 100% and to never let a day go by without either getting better myself or helping a teammate get better. He also had a very high drive to win, which was one thing that stood out to me, and also he found a way to have fun with the game while still working hard," Josh Compton, senior football player, said.
One of the many ways he is remembered in our community is by Cafe 29.  Maloney's mother, Rosaelida Montoya Cardenas, opened the cafe to honor her son. The Cafe tries to commemorate many aspects of Maloney's life including his time at West, the Sunflower league, and his acceptance to KU.
When a customer arrives, they look up and see 63 yards of a football field painted on the ceiling leading from the entrance to the register.  The goal of this painting is to give the customer the feeling of scoring a touchdown when they make it to the register.
"When you enter the cafe, you start running the 63 yards, the last 63 yards that Andre ran before he made the last touchdown," Cardenas said.
The cafe offers breakfast and lunch items, along with several bakery options, many of which are gluten free.  
"All of the items on the menu are related to items that Andre used to like. It's related to any moment that I had with my son," Cardenas said.
According to Cardenas, Maloney used to eat many sandwiches since they were easy to eat in the car. Because he played many sports he was in the car often.
To the left of the register is a large mural depicting one of Maloney's football plays.
"The mural is a way to say thank you to the community. This is a very strong community and always very supportive. All of the faces are real people who cheer for the boys. The football players in the mural are players from other schools in the Sunflower League," Cardenas said.
To the right of the register are mementos of Maloney's life. These mementos include his football helmet, West jersey, future KU jersey, collages made by fellow community members, and his last English paper.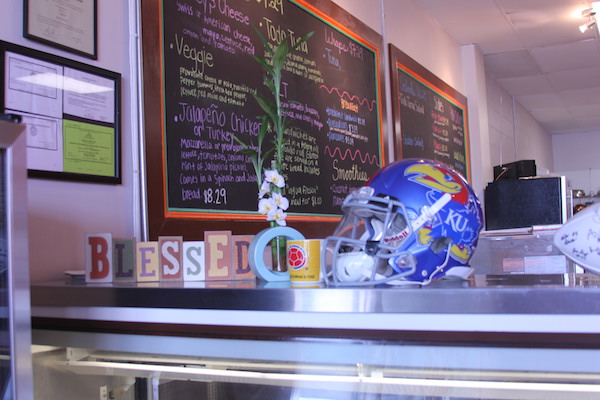 Maloney's jerseys were a very important part of his life. West and KU both planned on retiring Maloney's jersey number, 29.
"One of the boys from Lawrence Free State who used to play against Andre asked me to continue wearing the number 29 at KU,"Cardenas said.
Since the boy talked to Cardenas,  she gave permission to KU so the jersey could continue being worn.
One of the unique aspects of the restaurant is the 'Make It Big' board. Make It Big was something Maloney used to write down and strive for. He planned on becoming a professional football player, therefore, making it big. The board is covered in personalized Jenga blocks.
"We ask the customers to write a positive message on a Jenga piece and tape it to the Make It Big board," Cardenas said.
Each Jenga piece is a dollar and at the end of the month, the money is donated to a different charity.
"Sometimes there are little kids that are unhappy when they come in, but when they write something on a Jenga piece, they are happy again," Cardenas said.
In the back of the restaurant, there are several painted silhouettes of athletes.
"We try to represent all of the sports and all of the athletes here."Cardenas said.
The idea of opening a cafe came from Maloney himself.
"He wanted to open up a restaurant for her or a bakery if nothing else," Callaghan said.
Cardenes' original dream was to open a bakery. Unfortunately she wasn't able to do so. Cardenes found out that she was diagnosed with Celiacs disease and unable to work with flour.  After she found out, according to Cardenas, she fell into a sort of depression.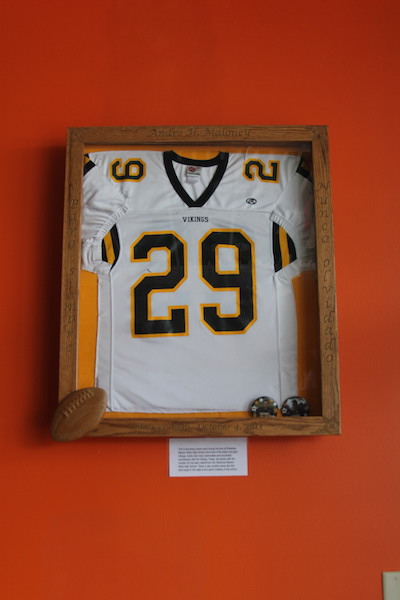 "Andre noticed that I wasn't happy so he started saying that he would open a cafe for me when he played professional football,"  Cardenas said.
She never knew exactly where he got the cafe idea from, but she thought he might have gotten it from a show that they used to see together.
"I think he got the idea from a show we would see called 'Como Dice El Dicho' where everything happened in a cafe," Cardenas said.
After Maloney's passing, her family and close friends encouraged her to follow Maloney's dream of opening a cafe. Due to financial issues, Cardenes had a hard time opening the cafe.
"I didn't have the money at all to start the cafe, but the community helped me,"Cardenes said.
"I liked that she was happy; I hadn't seen her happy since Andre passed away,"Callaghan said.
She is very thankful to the community for all of their support. She hopes to stay open for a long time and the football team hopes to keep the dream alive by making the cafe their pregame meeting place.
"What makes Cafe 29 so special is that it is a community thing, bringing together many people from the West community to remember Andre and his impact on everyone, along with having great food and a wonderful experience," Compton said.