What's New with iOS6?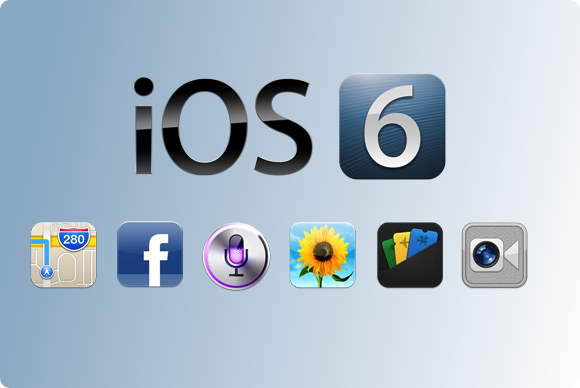 There is a new update available for anyone with iPhone 3 GS, iPhone 4, iPhone 4S, iPhone 5, iPod touch (4th and 5th generations), iPad 2, and the new iPad. The iOS6 update is free and easy to install with your Apple device. Several changes have been made to make your device easier to use.
Maps
1.  Elements are vector based to make the graphics and text are detailed.
2.  Panning the scene is smoother.
3.  Speaking turn-by-turn navigation and instant traffic updates.
4.  See a flyover picture of the city and landmarks.
5.  Locally search near places.  Get their phone numbers, address, websites, and get their Yelp ratings and reviews.
Siri
1.  It knows exactly what you are saying.  You can tell her "Tell my mom ten more minutes" and she will do it.
2.  Ask for:
-sports action
-movie times
-restaurants with reviews and ratings
-send a tweet or post on facebook
-launch an app
-set reminders
-send a text
-check weather
-schedule your life
-directions
-contact finder
-set alarm
3. When you are wanting to type something for a text or email you can tap on the microphone icon and say what you want it to type and that is what it will do.
4. Apple is currently working with car manufacturers to install Siri into new cars.
Photo Streams
1.  You can personally chose the contacts you want to share your photos with.
2.  You can send photos to anyone with iCloud or iOS6.
Passbook
1. Passbook is the newest addition to iOS6.
2.  It puts boarding passes, movie tickets, retail coupons, loyalty cards, and more in one place.
3.  Add through apps, emails, and websites.
4.  Keep all these things in an organized fashion.
FaceTime
1.  FaceTime can now be used without wifi!  You can use it anytime, anywhere.
Phone
1.  When you decline a call you have the option to instantly reply with a text like "I'll call you later." or "What's up?"
2.  You also have the option of using the "Do Not Disturb" button and you can control who you want to know it trying to contact you.
Mail
1.  You can set up a VIP list of people you don't want to miss an email from.
2.  To refresh you have to swipe down.
Safari
1.  iCloud keeps track of which pages are up so when you change to a different device it has the same pages up.
2.  It saves web pages and not just links in your Reading List.
3.  If you tilt your device to landscape you can change the image to full screen.
Camera
1.  The camera now has a panorama feature,  with which you can use to shoot up to 240 degrees to show an entire breathtaking vista.