The Inside Scoop on Cadet Teaching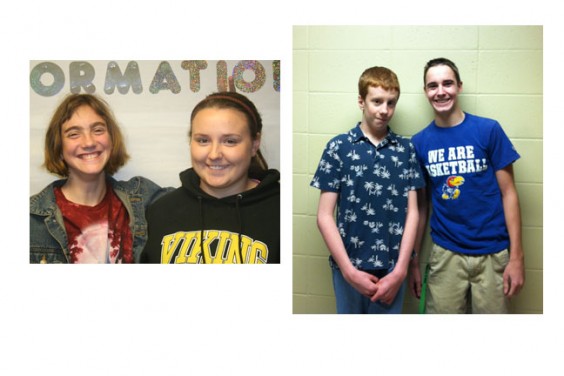 For numerous Shawnee Mission West students', helping others is essential to their day. This really became the case for students in the Cadet Teaching program. It is a program where handpicked students help the mentally challenged.
The decision to join Cadet Teaching varies for many.
"I joined for many reasons, but one was that I always enjoyed helping others. I also thought it would be a good opportunity," said Austin Eck, first year Cadet Teacher.
For Kate King Hagen, the reasons are very different.
"It sounded different, new, and pretty interesting. The subject just intrigued me," said King Hagen.
It has been around for years, and has been a huge success. The Cadet Teachers are assigned a partner who they are supposed to help grow mentally and socially. For many,      though, the lasting effects of these mentally challenged kids' stretches farther than just school.
"Colin has taught me a lot, but really how to enjoy the little things… He doesn't take much for granted," said Eck, whose partner is Colin Berigan.
Kate King Hagen has also learned a lot from becoming a Cadet Teacher.
"It has helped me notice the differences between everybody. The class is very diverse," said King Hagen.
The activities between the Cadet Teachers and their partners' includes many social activities and games. Some of the activities they do include discussing their weekends, starting new educational units, and a "Fun-Friday".
" We work the interpersonal students on their social skills by games. We are competitive with others in the class for awards like candy. It's a lot of fun." said King Hagen.
For one of their field trips, they went to powerplay. Kate King Hagen reflected on her experience.
"When we went we played laser tag. It was a good experience and it was a lot of fun." said King Hagen.
The ending goal differs for many students as well.
"No, it hasn't really changed my opinion of them [mentally challenged], I always thought that they could go far. I always thought that they had equal opportunity, I guess," said Eck.
"If you are on the fence, I would say to definitely do it. It gives you a break in your day and you will make friends with the interpersonal students as well as the other cadets." said King Hagen in regards to the program.
Cadet Teaching has many benefits. Its goal is to help the mentally challenged pupils and to do so with our own SMW students. So far, it has been a success, and it has become many students' favorite part of their day.