YoungLife: MUCKFEST 2012
Getting down and dirty, students from all over Shawnee Mission come together for a messy event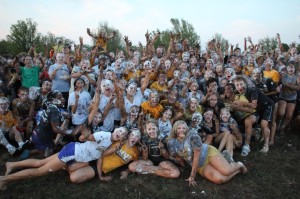 Photo Credit: Dylan Crow
This year was the 15th year that Younglife hosted MuckFest, an event that welcomes any Shawnee Mission student. MuckFest was an event that was started by YoungLife and what this event is composed of is a bunch of flower, mud, shaving cream and some fun.
It's school versus school but in the end, every man is for himself. Everything (by everything it is things from maple syrup to shaving cream) gets tossed and thrown around from water balloons to handfuls of shaving cream. It goes by four parts:
1. Flower gets tossed around, for example it will be Shawnee Mission East and North, against Shawnee Mission West and Northwest in a flower face off. Grabbing cups of flower, running up to the opponent and throwing the flower in their face or over their head.
2. The water balloons: there are barralls of water balloons and this is where it now becomes girls against boys. Boys on one side girls on the other, and the boys typically start. Once they are done it is the girls turn. Grabbing many water balloons, and throwing with all might hoping it will hit many people. Now, the ground is very muddy and soaked.
3. Comes the shaving cream. Non menthol of course, poured into the hands of everyone. Now this is where your face, your body, and everything shall be covered. Slapping on the shaving cream to the face of your friends and opponents, nobody is left clean.
4. THE MUD! The icing on the cake. Perfect. Handfuls of mud, grass and everything dirty imaginable is the final thing tossed. Be sure to keep your mouth closed, wouldn't want bits of dirt in your mouth.
C'mon, the YoungLife leaders aren't THAT mean. They send a fire truck in from the fire department to hose everyone down. Everyone scatters around to run towards the fire truck for a final cleans.
Something everyone should consider going to, you can be yourself, look gross and have fun.