7 Questions With Ramona Mansour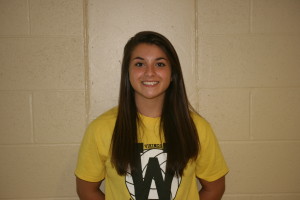 Sophomore, Ramona Mansour
Q: What surprised you most about West?
Ramona: The different things to do during the year like sports, clubs, and Relay For Life.
Q: What is your favorite part about West?
Ramona: I like going to Friday night football games and basketball games the most.
Q: What are you most excited for this year?
Ramona: I'm really excited for Relay For Life and school dances.
Q: What was the best thing you did this past summer?
Ramona: Mainly go to the lake and relax with friends and family.  And sleeping a lot.
Q: What sports are you involved in and your favorite part about being on a high school team?
Ramona: Volleyball and I'm doing swim for the first time this year.  I love the feeling of the special bond with your team and meeting new people.  And I also like representing West.
Q: Who's your senior crush?
Ramona: My senior crush is probably Brett Neely.
Q: What do you want to be when you grow up?
Ramona: I want to be a doctor but I don't know what kind of doctor yet.