Senior with Musical Aspirations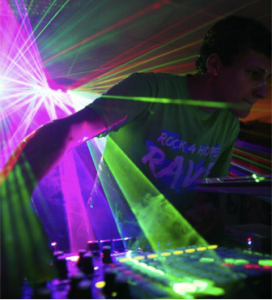 While most seniors are thinking of the upcoming football game or their severe case of senior-itis, Eric Ferguson has his mind on something different. His craft is music, dubstep, to be exact. After attending a Deadmau5 concert last year with close friend, Landon Ochsner, he has been expanding his interests ever since.
"I think dubstep music is just energetic and innovative. It's also something that you just can't do with an instrument," Ferguson said.
Ferguson said his style is energetic and also very detailed. He said he is a huge perfectionist and prides himself on finding just the right variation of sounds. Although this takes up time, he said it really helps in the long run.
He says he hopes to pursue a professional career in this field. Ferguson has DJ'd at numerous house parties, including Rock4Hope, and has enjoyed all of them.
"I felt like Rock4Hope was a huge success, and it was a ton of fun," Ferguson said.
"I would like to play at larger events, and devote more time to my music," Ferguson said in regards to his hopes for the near future.
Ferguson is not alone, though. He has plenty of inspirations, but there are a few that definitely stand out in his mind.
"I would say that Deadmau5 is one of my inspirations because of all the effort he puts into his music. Also, Skrillex, because he really has set the standard  for crazy music," Ferguson said.
Aside from creating dubstep, Ferguson has other hobbies as well. He enjoys building computers, and is on the school swim team. It is through swim team that Ferguson met Nick Bukaty, who is also a dubstep enthusiast. Since first meeting, they have become close friends and Bukaty frequently critiques Ferguson's music.
"He is really persistent and always makes sure that things sound great," Bukaty said in regards to what makes Ferguson so good at being a dubstep artist.
What sets Ferguson apart from other dubstep artists, according to Bukaty, is his introductions into his songs. He said that they always provide a great build up effect. Bukaty also said that his shows are something special.
"He always has good vibes at his shows, and it feels like a professional performance," Bukaty said.
Landon Ochsner, Ferguson's close friend who took him to that Deadmau5 concert, is also into electronic music. Ochsner feels that a large part of Ferguson's success is due in part to his equipment.
"His setup is just awesome. The lights and bass really add to his sets," Ochsner said.
Ochsner creates electronic music as well.  He really enjoys it but says he is into lighter types of dubstep, while Ferguson is into more heavy types.
"He [Eric] definitely has all the skills he needs and the equipment." Ochsner said when asked if Ferguson could be a professional DJ.
Ferguson is definitely on the right path. Things definitely look promising for his future, as well. With a slew of great friends, top-notch equipment, and a whole lot of talent surrounding him, you'd have to be crazy not to agree!