7 Questions with Max Meyer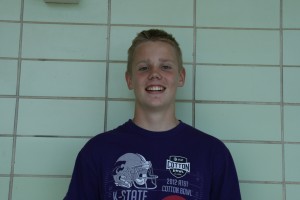 Max Meyer, Freshman, answers some questions about beginning his first year of high school.
Q: What has surprised you the most about West?
Max: How good the food is
Q: What is your favorite part about high school?
Max: The sports
Q: What sports are you involved in and what is your favorite part about being on a high school team?
Max: Football, basketball, and baseball. The best part is getting to play with all of my friends!
Q: What positions do you play?
Max: Football- wide receiver, Basketball- shooting guard, Baseball- third base
Q: What are you most excited for this year?
Max: The dances
Q: What was the best thing you did this past summer?
Max: I went to the MLB All-Star game
Q: What is your most difficult class this year?
Max: Honors Algebra 2 with Cohn
Interview by: Katie Dougherty