Coming Back In Style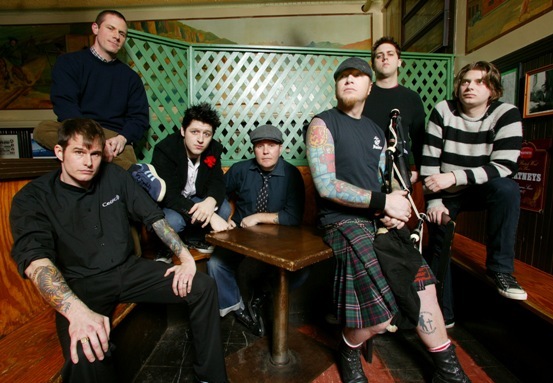 The Irish hardcore punk band Dropkick Murphys (formed in 1996 in Quincy, Massachusetts) are back for another riot with their seventh studio album, "Going Out in Style", an album that personifies not only their band, but also Irish punk music as a whole. Since their debut album "Do or Die" came out in 1998, the Dropkick Murphys have been known for their unique styles.
With loud, emotional vocals provided by lead singer Al Barr and a large variety of instruments (including the bagpipes-basically a necessity for all Irish bands anymore) played by their six other members, the Murphys' music is overwhelming. Even when listening to them on my iPod, I still felt as if I were there in the bar (because you know that's where they always are) with them, screaming along to their music and moshing with hundreds of drunken fans. This is what the Murphys music does to you. It makes you want to get up and fight (punk influence) and dance wildly until early the next morning (Irish influence).
Before "Going Out in Style", the Dropkick Murphys were probably best known for 2005's "The Warrior's Code", which featured the hit single "Tessie", a song I came to grow and love due to its appearance on the MVP Baseball 2005 video game soundtrack.
From the opening track "Hang 'Em High", I was confident that the Murphys were back, and hadn't lost their fast
paced touch. The first track has everything you would expect in a Murphys song: intense and upbeat drums, riffy guitars, squealing bagpipes, and loud chants led by all seven members (a big reason why all of their music sounds live). If you weren't pumped up already (which you should be for this kind of music), the first few tracks will do the job.
"Cruel", the fourth song on the album, will give a rest from all of the intensity without getting rid of the "live" element. It provides an extremely sing-songy chorus, and would be the moment at a concert when the lighters are brought out (where everyone puts their arms around one another, singing and swaying back and forth – ultimate bonding time).
If there was ever better music to listen to in a large group, I would like to hear it. The Murphys music isn't the kind a person listens to extensively by themselves, a large group is necessary to experience the full effect. Listening to this album on my own iPod, I had to use quite an imagination to gather the full effect, because one of the downsides of Going Out in Style is that listening to it alone just isn't the same.
The middle of the record is somewhat repetitive (with the exception of "Broken Hymns"), but that is not necessarily a bad thing. Punk music is always repetitive – the kind of music you listen to in spurts because it gets old after a while. Being a person who actually suffers from ADHD symptoms (I am unable to concentrate for more than five minutes on anything I find remotely boring), I was surprisingly able to get through this entire album with ease. So while it may be monotonous at times, it is definitely bearable.
The Irish aspect is what originally drew me to check out the Dropkick Murphys. Being partly of Irish descent, I was curious as to what Irish music sounds like. After checking them out and remaining a loyal fan for years, I've realized that the unique Irish sound is what really helps them gather fans. Along with the obvious Irish influences, the Murphys are also influenced by The Clash and Bruce Springsteen. Springsteen (seemingly every 45 year old man's hero) actually makes a cameo on the album in the track "Peg O' My Heart", one of my favorite songs on the album. Springsteen's voice harmonizes perfectly with the song, and will likely attract more fans.
Although "Going Out in Style" may not seem that much different than previous albums, it really has more of a range in style than most of their previous work. They have their usual punk songs ("Hang 'Em High" and "Going Out in Style"), their softer, sing-songy ballads ("Cruel" and "Broken Hymns") and their instrumentally inspired ("Memorial Day" and "1953"). The album as a whole is well crafted, and features some very memorably tracks. It probably won't blow you away, but it will succeed in doing what Dropkick Murphys music is supposed to do: pumping you up for a long night out away from all of the stresses of life.
Rating: 4 / 5 stars