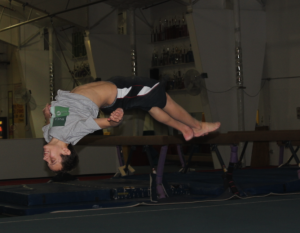 Out of the Box
Gymnastics is a popular world sport, but not very popular in the high school world.  Austin Eck, Junior, and Collin Krabbe, Junior, decided to change things up.
Eck started out playing typical sports, basketball, soccer, and baseball.  He tried gymnastics and fell in love.
"Regular sports are boring," Eck said.
Story continues below advertisement
Krabbe started out taking karate and hated it.  He turned to gymnastics when he was about six years old.
Ever since, they both have been training hard for years to get where they are now.
Krabbe and Eck both are high level gymnasts.  They both practice at Emerald City Gymnastics, six days a week for three hours a day.
"Practice is very intense," Krabbe said.
Since starting they each have established their favorite events.
"I like rings the most," Eck said, whereas Krabbe enjoys high bar.
Eck's favorite accomplishment was receiving first place for his floor routine in the biggest meet in the USA.  Krabbe's biggest accomplishment was winning regionals his first year of gymnastics.
They both would like to partake in gymnastics in college.  Being on a collegiate gymnastics team would give them the chance to possibly be on the Men's National Team that will be going to the Olympics in Rio de Janeiro, Brazil.