"Witness for the Prosecution" Winter Play
Catch "Witness for the Prosecution's" debut on February 8-10 at 7pm at the West auditorium.
Theatre will soon be performing the winter production, Agatha Christie's "Witness for the Prosecution," what director Eric Magnus calls one of the author's "most unique plays" due it being "more of a courtroom drama." Considering that murder mysteries are what Christie is most famous for, Magnus said.
"I wanted a play with that genre with this group of actors."
"I'm excited because the challenge with this [is that] shows like this can be kind of 'talky'. […] If we're storytelling the way we know we can, the audience will get into it. They won't need lots of action," Magnus said.
In comparison to musicals, plays generally don't take as long to produce and usually require a smaller cast. However, the plot may be often be more intense and intimate with the audience.
Junior Miles Fritz plays Sir Wilfred, one of the play's lead roles. This character is very complex, and is different from any other role Fritz has portrayed.
"My character goes through a lot of emotions; he has different phases in how he talks to people," Fritz said.
He estimates that his character has nearly 340 lines in the show.
Of course, this requires a lot of preparation."We have rehearsals five nights a week, three hours a night depending on the school schedule," Magnus said.
On "tech week", the week before the show, this is often longer.
So while the cast undoubtedly spends a decent amount of time together, they also naturally tend to form close bonds rather quickly.
"With the musical[…]it's a lot of people, but a lot of things happening at once. You never get [to just] sit and…talk about each other."
But what's even more conducive to close friendships, "In plays, there's more roles, and so you get to interact even on stage with them a lot more," Fritz said.
Of course, Fritz also noted that some are closer than others, but that he considers "pretty much everyone [in theatre a friend]."
In order to provide a quick snapshot of the show, Magnus hinted that the show is about "A young American named Leonard Vole in London, [set] in the 1950's, who befriends an elderly woman who is subsequently found dead."
Leonard is accused on account of his friend's death, but protests his innocence in a murder trial, where the audience follows the gripping story.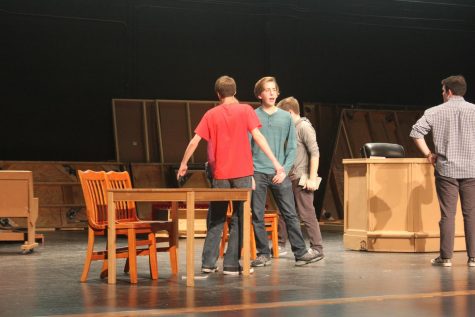 Catch the final conclusion of "Witness for the Prosecution's" debut on February 8-10 at 7pm at the West auditorium.