Culture Shock!
August 16, 2022
People are speaking around you, having their own little conversations, and laughing amongst themselves. But laughter is the only thing you really understand. People look at you smiling, and you smile back. You wish you could introduce yourself, and talk about common interests, but the words that you do know in English don't form proper sentences and you feel that people will judge you if you don't use the correct grammar.
A handful of students struggle with this after moving here from a foreign country. Even after adjusting to the language, there are still many cultural differences to get used to, and needless to say, it's not easy. Foreign exchange student senior Linda Grigoil discussed this.
"When I first got here I couldn't really express myself because of the language barrier. It was really hard to make friends, and I couldn't get other people to understand what I was saying that easily," Grigoil said.
Growing up Verona, a city in the Northern part of Italy, is completely different than growing up in the midwestern United States. Going through the process of adjusting to an entirely different culture proved to be challenging.
"Apart from the language, the hardest thing about adjusting to the culture was oddly the units of measurement. For example, we use Celcius and meters instead of Fahrenheit and feet," Grigoli said, "Also how you can start driving so early because in Italy you have to wait until you turn 18 to even get a license."
Sophomore Christopher Klimek was born in Moscow, Russia, and immigrated to America at the age of nine. He and his family still struggle to adapt themselves to the standard American ways of life.
"My life here has been about adapting to different cultures, it has been about learning something new and having
other people learn something new. For better or for worse," Klimek said, "Russians don't adapt so well. We are still in our community. I feel like I have done better than my parents at adapting. My parents barely speak English, so I have to help them a lot. They still hold that same Russian mindset."
Freshmen Edwin Henriquez and Jose Daniel Martinez Hernandez come from the other side of the world from Russia and Italy. Living in Guatemala and El Salvador, they shared some of the same experiences with Klimek and Grigoli.
     "I wasn't accustomed to the language here and when people explained things to me in English, I didn't really get it," Hernandez said, "I wanted to speak to others [in English] but I have a limited vocabulary."
     Another adjustment comes when getting dressed. Clothing is not only used to express yourself but in countries different from your own, it also tends to be accustomed to the climate. This can prove to be a big change especially when you move from Russia to the United States such as Klimek did.
     "We have Ushankas, the big Russian hats, we still wear those. They work better, you put the fur on your ears, it works," Klimek said. "People wearing Crocs disgust me. Russians either dress in very formal attire or sports jackets, very normal things, leather jackets, but when I first see people wearing crocs? I don't know what this is. I laugh at them."
America has favored comfort over style in recent years. This is different from Europe, where people tend to dress formally for places like school and work.
"You feel like you need to dress up in Italy, jeans with a nice shirt is the least you can do. You could wear sweatpants and sweatshirts but it would be very weird. I love how people come to school dressed so comfortable all the time," Grigoil said.
The way others dress isn't the only difference that these students have noticed when it comes to school.
     "Public schools are funded more here. They have more technology and opportunities," Hernandez said, "There are also more options for classes to take here. For example, there's financial literacy and I really like that class."
In addition to more funding and technology, the actual time frame that students attend school is different in other places as well.
"[In El Salvador] we only go to school from 7-12, it's a longer school day here but I miss having time to practice sports after school," Henriquez said.
The European schools also stray from what Americans would see as the norm. This includes focusing closer on students' passions and being more conservative in a learning environment.
"High school is completely different here," Grigoil said, "We have different types of high schools in Italy, they are five years and you choose what category of school you want to go to. I'm in a scientific school, and you cannot choose subjects you just have to take what classes are offered." Grigoil said. "We don't change classes in Italy, the professor travels from one class to another. I like it because you have a bit of time to walk around and take a break."
     While the overall education system works differently in other countries, the curriculum also differs and students tend to experience learning in other ways.
     "The schooling here is different as well […] In my country, for tests a lot of times you have to go up to the front of the class and talk, you have to say what you know about a certain topic," Klimek said, "Here you take tests and do presentations, but really presentations are with a group. In schools, they still beat you on your hand if you do something wrong, we have uniforms and so on."
The culture of Spanish-speaking countries is vastly different and changes from country to country. The practices of ancient civilizations and colonization in the 1500s caused places like El Salvador and Guatemala to have a rich, unique culture.
     "[The culture] is small but there are a lot of traditions. In different parts [of the culture] you can find influence from the Mayans," Henriquez said.
Traditions and the ways people practice culture change across the countries as well.
"Guatemalans practice Guatemalan culture, but it's different in different parts of the country. There are also lots of indigenous people living in Guatemala," Hernandez said.
Sometimes, cultures may even mix together to form a new, unique and specific one. Klimek spoke on his experience.
"I am a Russian Jew, so we have a bunch of Jewish culture too[…]" Klimek said. "My mother is Ukrainian, my grandmother and my great grandmother being Jews lived through nazi occupation. We [honor the traditions] out of cultural appreciation for what they had to live through."
     With the memories of their culture engraved in their brain and the traditions still being practiced to this day, America provided these students with many new experiences apart from what they've known before.
"The first time I flew in an airplane was really fun. It was on my way here." Henriquez said.
     After arrival, the new and exciting experiences continue.
"I was invited to an antique car show, I liked it a lot," Hernandez said.
While traveling to a new country is exciting, it is easy to feel homesick the longer you stay. Grigoil has been attending school here since August.
"I miss my family and my close friends in Italy a lot. We're a really close family so it's been difficult." Grigoil said. Grigoil's time in America is quickly coming to a close as the school year ends. She will be returning back to Verona on May 18, bringing with her all the experiences and memories she made in Kansas.
     Henriquez, Hernandez and Klimek are permanent citizens of America. Even now they find themselves missing their respective home countries.
"Here we don't spend as much time with our families because we are always at school or working," Henriques said.
Moving to a different country also means leaving loved ones behind. You have to lose some of the people closest to you, this was hard for Klimek.
"Of course, I know what people are going to ask, Where would you prefer? Would you prefer to be here or in Russia? I prefer it here, for a lot of reasons […]" Klimek said. " We miss our family really because we don't get to see them, especially now with the whole war situation. We don't see them, we don't think we will ever see them again."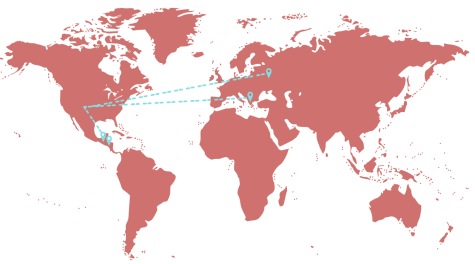 These students came from places all over the world, with the total distances from their home countries being 13,754 miles away from Overland Park, KS.