The Art Department
In which all questions one could ever have about our art community are answered.
Have an interest in the arts? Want to take an art class, but don't know which one?  Want to try your hand at painting, drawing, ceramics, graphic design, or photography?
Greg Schieszer, an art teacher here at West, answers all the questions one could have about the art department. Mr. Schieszer teaches Intro to Studio Art, Photo 1, Photo 2, Drawing, and AP Art.
So, without further ado, here is everything you could possibly want to know about the art department!
What are all the different classes in the art department? (And what are their prerequisites?)
Intro to Studio Art –> This is the pre-requisite for all art classes at West, unless a portfolio is submitted to the staff to waive this prerequisite.
Drawing
Painting
Photo 1 –> This is the pre-requisite for Photo 2.
Photo 2
Digital Media
Ceramics
What is the difference between Digital Design and Digital Media?
Digital Design is in the business department, and the focus is on learning the software.
Digital Media, being renamed to Graphic Design next year, learning & applying the elements and principles of design.
 What changes are being made next year?
Photo 2 is being renamed to Digital Photo – Art.
Digital Media is being renamed to Graphic Design – Art.
Another level of drawing is being added, called Drawing 2.
 What do members of the National Art Honor Society do?
NAHS is mostly service-based involvement: Art activities help to raise money and members can earn credits by bringing snacks, working at and helping with shows, and doing projects to raise money. For more information on the National Art Honor Society, see Ms. Taylor — the head of NAHS.
 How often are shows in the gallery?
There are shows in the gallery every month. At the end of the year, each senior show has two weeks in the gallery. Seniors interested in having a senior show must submit an application by late February each year.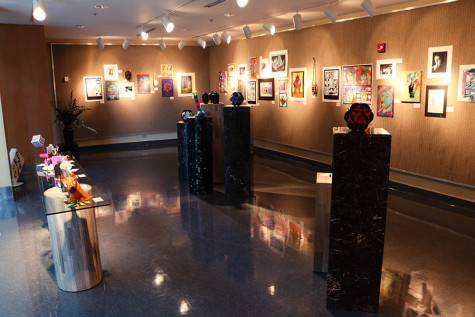 How do artists get chosen to be in the gallery?
Artist are recommended to Mr. Schieszer, and he contacts them (or vise verse). 2008 was the first year the gallery opened, and there have been interesting variety of different shows. In January 2008, A Print Society member at the Nelson-Atkins  brought prints from private collections of famous artists. There has also been a wide variety of different kinds of painting, and lots of 2-dimensional art. "We haven't had as much 3D work as I would like," Schieszer said. He hopes that there will be a rise in the interest of 3D art in the future.
 When is the gallery open?
The gallery is open whenever Schieszer is at school: before 7 am, until he leaves at about 4. It's always open for 2-dimensional work, but sometimes it will be locked during the school day if there is fragile 3-dimensional work.
"I make it a point to take my classes down there either for a quick viewing with background, or wait until after artist has done gallery talk for more background. I see it as an extension of the class," Schieszer said.
 Are there any SMW art shows throughout the year?
In August, for 2 or 3 weeks, there is a faculty/staff show. Teachers, janitors, and any all staff members are invited to exhibit their work.
The entire month of March is the Vertical Team Show. All elementary schools that feed into West, Westridge, and West have artwork exhibited in this show. This is the first exhibit of the year that features students' work. Before this point, the only artwork in shows it either by the faculty or by professional artists. But of course, student artwork will always be on display in the art hallway at West.
The event that opens this exhibit is called Art Beat. In the past, there have been silent auctions and offered studio activities — "but it is more about raising awareness of our program than raising money," Shieszer said.
Both April and May are reserved for the senior shows.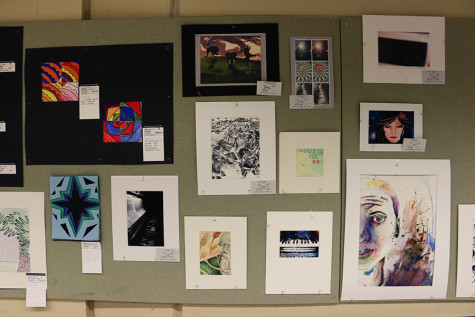 What is an independent study?
An independent study is an opportunity for someone to get additional experience and whatever they're interested in. If they've exhausted the number of courses they can take and get credit for, it is a good idea to set up an independent study so they can continue with their artwork and work independently as they choose.
 What do students do in the AP art class?
AP Art is 2 classes in one. For juniors, it is a Pre-AP Portfolio Prep class, in which they build up their portfolio all year. They can submit a portfolio if they want to, but most juniors spend their time building up reserves for their senior portfolio.
Seniors are officially enrolled as AP students. To get AP credit, they must submit a portfolio. These portfolios are sent to the National College Board, where they will be given a score on a scale of 1-5. Last year (2014), 10 portfolios were submitted, and 4 got a 5 — the highest score.
"West is very fortunate to have such an excellent facility. It is definitely the best art facility in the district. This doesn't guarantee good work, but it certainly helps," Schieszer said.
 Suggestions from Schieszer: 
After intro, if a student is planning on taking additional art classes, take drawing next, no matter what their interest is. Drawing is a good foundation for everything, and is a great skill to have.
"An artist is not a special person, but every person is a special artist."
If you would like more information about the art department, leave a comment below and we will be sure to get your question answered!