Football Team Honored by the City of Lenexa and Overland Park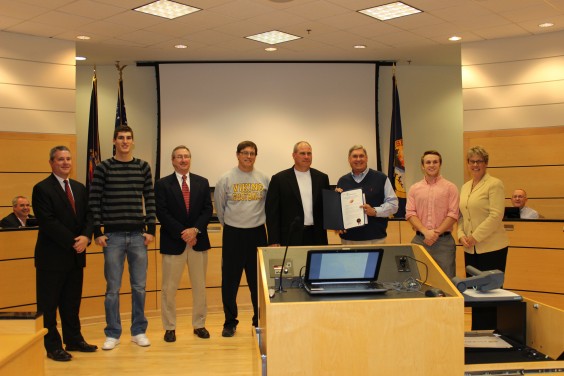 The football team was honored by the City of Lenexa for their 19-14 win over the Hutchinson Salthawks in the 6A State football game.
The mayor of Lenexa, Michael Boehm, read the proclamation which states, "Now, therefore, I, Michael A. Boehm, by virtue of the authority vested in me as Mayor of the City of Lenexa, Kansas, and on behalf of our City Council and all our citizens, do proclaim and hereby extend this expression of our pride in your accomplishment, and our appreciation for the fine publicity you have brought to our community by your good sportsmanship and inspired team play."
In attendance that night was head coach Tim Callaghan, athletic director Don Perkins, principal Dr. Charles McLean, assistant coach John Stonner and senior captains Joel Spiller and Alec Dinges. The following day, Carl Gerlach, mayor of Overland Park, proclaimed Wednesday, December 5 as Shawnee Mission West Day.